The Big Jewcy: Dan Naturman – Stand-Up Comedian
Dan Naturman is, by most standards, a successful standup comedian. Now he's trying to conquer France. Read More
By Kylie Jane Wakefield / June 1, 2011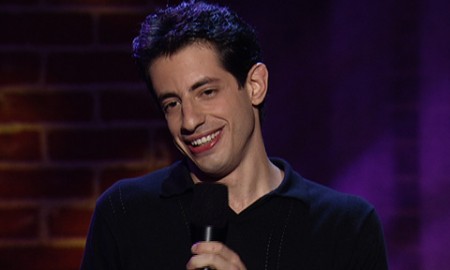 Jewcy loves trees! Please don't print!
Dan Naturman is, by most standards, a successful standup comedian. Throughout his 18 years in the industry, he's been on Last Comic Standing (twice), starred in his own Comedy Central Presents special, has appeared on the Late Show with David Letterman, Late Night with Conan O'Brien, and the Late Late Show with Craig Ferguson, and he's a regular fixture at the Comedy Cellar and Comic Strip Live. But, he's still working constantly to differentiate himself from the crowd. "In this business you've got to do everything possible to get noticed," he says.
In order to get more recognition, Naturman recently jumped into the world of podcasting. He's the host of Too Much Information, a show on the Comical Radio podcast network, along with fellow comedians Danny Lobell and Justy Dodge. "I like radio/podcasting because you can say whatever you want," he says.
Naturman is also trying to break into the comedy scene in France. He's been learning the language for the past eight years, and last September, he did a five-minute set in Paris. His goal is to find a producer and put up a one hour-long show. "I'd have a hook at last," he said. "I'm funny, I hope, but it's hard to distinguish yourself. Over there I'm the American guy."
Naturman's jokes are a bit self-deprecating, and largely have to deal with dating and relationships, whether they're about going out with someone he met online or trying to snag a New York City girl. He's neurotic, and he talks fast, jumping from one thought to another without always finishing the former idea.
On stage, Naturman isn't overtly Jewish. He doesn't explore Judaism in his act, save for a joke about Hitler, but he says that it's still apparent that he is, in fact, a Jew. "Sociologists might argue that the Jewish sensibility is different. It's the guy who doesn't fit in, he's not quite like everyone else. He's not quite sure of himself, obviously [like] Woody Allen."
The comedian doesn't feel the need to discuss it and, in his experience, he says it's not considered very cool. "Every time I've tried to do a Jewish oriented show it's only been older people showing up. The younger people didn't seem to be as interested. I did the King Davids of Comedy show. It was trying to play off the popularity of the Kings of Comedy, but everyone [who came] was elderly."
When VH1 called him to appear as a talking head on their "So Jewtastic" special program, Naturman turned them down. "I think it was insulting that I wasn't good enough for the other stuff. What, I'm not qualified to talk about the 80s? I'm as 80s as I am Jewish. Plenty of Jewish comics were on 'I Love the 80s,' so why am I the only one doing the Jewtastic weekend? Probably because no one else wanted to do it. They probably couldn't get anybody else."
By pursuing podcasting and performing overseas, Naturman hopes it will propel him into his other career goals. "I'd like to be able to do comedy on my own terms, which means doing other things like film, TV, acting, and writing," he says.