The Big Jewcy: Joe Mande – Regrets All His Tweets/Looked At Those F**king Hipsters
Joe Mande is not only a funny guy, he's the first person to recognize "Big Jewcy" as a terrible pun. Read More
By Jesse David Fox / June 15, 2011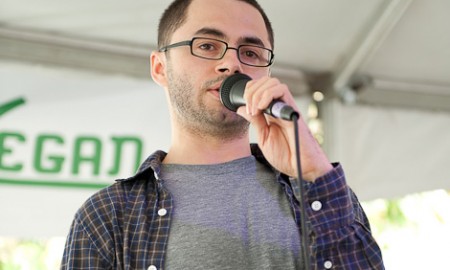 Jewcy loves trees! Please don't print!
Joe Mande is a professional funny person. In 2009, Time Out named him "Best New Comedian" and he's appeared on Comedy Central's Live at Gotham and VH1's Best Week Ever. Recently, he has been opening for Aziz Ansari and living the life of a comedian on the brink. Here is a clip:
Montreal Just For Laughs Festival from Joe Mande on Vimeo.
I recently interviewed Joe about being funny, creating the infamous Look At This Fucking Hipster blog, and using Twitter to make fun of people who are really asking for it.
Jesse: Congrats on being named to the Big Jewcy. How does it feel?
Joe: Thank you. It's both an honor and a terrible pun.
Jesse: What is your background?
Joe: I did improv in high school, sketch comedy in college, and now I do stand-up.
Jesse: When do you realize you liked making people laugh? How did you decide to do it professionally?
Joe: I realized in high school that I was good at getting girls to laugh and not sleep with me. I chose to make that my career when I moved to New York in 2005 with a worthless BFA degree in Personal Essay Writing from Emerson College.
Jesse: Do you remember the first joke that you wrote that made you think, "I can do this thing?"
Joe: I wrote a joke when I was 17 that went something like: "I feel like I can identify with women. I mean, the first time I had sex I bled everywhere." I should probably work that back into my act, actually.
Jesse: You've told the story before about how Look At Thus Fucking Hipster started as a reaction to your father's confusion about the subculture. Did you ever think that that idea would grow into a book, sold at Urban Outfitters of all places?
Joe: I did not.
Jesse: The site had a particularly meteoric rise. Did you feel like it got away from you at some point and began to mean a different thing to different people?
Joe: Yeah. After a while it became clear that a lot of people either liked my site way too much or hated it way too much. It wasn't fun anymore so I stopped. I know some people were upset that I stopped, which is understandable. If only there were a million other websites about hipsters.
Jesse: You tweeted last week to fellow Big Jewcy winner Harris Wittels "@wittels Want to combine forces and make Look at This Fucking Humblebrag and never be known for anything else ever again?" Is there part of you that regrets the site?
Joe: What is this, Hardball? Using my tweets against me? Look, I have absolutely no right to complain about my tumblr or my tumblr book deal. Talk about the whitest of white person problems. That being said, sometimes I think maybe I should have kept it anonymous. Make it like an Urban Outfitters Primary Colors or something. But really, who cares? I don't regret anything, except my tweets. I regret every single tweet I write.
Jesse: You seem to enjoy using twitter to make fun of celebrities and politicians. Do you remember who was the first person you went after? Has this ever come back to bite you?
Joe: I think the first person I went after on Twitter was Senator David Vitter of Louisiana. He's the Republican dude who decided not to resign from the Senate, even though he got caught having sex with prostitutes while wearing a diaper. I thought it was funny so I started replying to his tweets with references to his love of prostitutes and his diaper fetish. After that I started going after Sarah Palin, Rick Warren, the Kardashians, etc. It's fun.
The only time it's ever come back to bite me was the time rapper Cam'ron called me gay and blocked me on Twitter. He's pretty much my favorite rapper, so that was a sad day for me. I hope one day the two of us can reconcile and he'll let me into Dipset.
Jesse: Currently, is there some one person or some corporation you've decided to really go after?
Joe: The Coca-Cola corporate twitter account asked its followers to send a picture of their favorite place to enjoy a Coke, so I sent them this:
Might be my best joke of all time.
Jesse: I've heard a lot of comedians say that when they start out it is a matter of figuring out what is funny about them. Do you think you have a sense of what is funny about you?
Joe: I have no idea who I am or what I'm doing with my life.
Jesse: What are you currently working on? What's next?
Joe: I just wrote a couple episodes of the Adult Swim show "Delocated." And my team just won the Finals on NBA2K11. Hopefully I can keep doing more TV writing and more stand-up and more simulated basketball.
(Photo by Tim Griffin via Brooklyn Vegan)