The Ira Glass Infatuation Post/ This American Life Review: How to Create a Job
Ira Glass and crew try and figure out how to create a job. Read More
By Bambi Shlomovich / May 18, 2011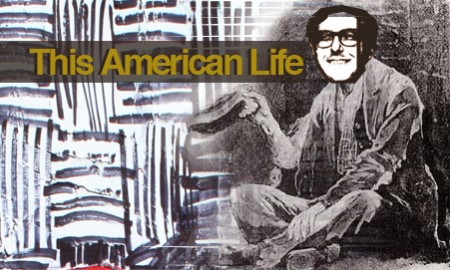 Jewcy loves trees! Please don't print!
Sometimes the global recession looks like the awkwardly arrhythmic lady in the front row trying to groove with the money beats at a show, hand claps that are as depressing as a Greek market, jerks of the body that are as unskilled as an unemployable English major. In How to Create a Job, Ira's crew tries to figure out why her date, aka the politicians in charge of keeping her fancy, aren't buying any vodka for her cranberry.
The thing, as Ira points out, is that these politicians keep making promises of "creating jobs," which is sort of like trying to sign homegirl up for an MTV video ho gig. How do you even do that? As elaborations on employment boosting gameplans are eclipsed by bizarro propaganda, the private sector is left alone to realize that "creating jobs" is a cocktail without a recipe.
Act 1: Professional government seducer
When similar shit hit a fan in the 1930s, the fix came in the form of government spending and federal jobs, two things that are a cold shower to an economy-stimulating 2011 boner. Instead, politicians like Scott Walker-R of Wisconsin are securing their own income by promising to create 250,000 jobs by the end of their first term (actually, I admire the individualist spirit that keeps his paycheck secured for the next four years as governor, if not those of his goddamn constituents and their unions).
So how is he planning on doing this? The funny part is that it seems like This American Life and other valuable media outlets are the only ones asking critical questions that point to viable processes. Chana Joffe-Walt's questioning reveals at least some blurry efforts toward creating employer incentives. Joffe-Walt also keenly points out that 190,000 jobs will just happen without Walker's work, based on classified ad numbers, leaving 60,000 that he is pushing for via tax cuts. "He's adding some alcohol to a singles mixer…and then let the hiring begin." But after the math is done, employers are not turned on when they realize their expensive drink is watered-down well liquor.
Act 2: I didn't want to scare the poor woman
Hirings at a call center show the bureaucratic system that jobseekers are put through. You get to hear a couple of relieved people getting that enigmatic job offer, but the absence of creative pulling-yourself-by-your-bootstraps for something better is deflating.
Act 3: Tattoo Parlors mean massive economic growth
Economonsters Adam Davidson and Julie Snyder hit up a lame San Diego convention where a bunch of interstate economic developers gathered for the International Economic Developers Council to basically scheme how they're going to steal jobs from the West.
This had to be one of the most nauseating acts I've heard. "Business attraction tactics" and "economic gardening" are dirty moves devoted to yanking jobs from California and creating hype around non-news. Something about it is kind of like a beta-male slipping his tongue in the ear of a girl freshly wooed by an alpha. Scummy and unsexy, Oklahoma.
Planet Money conclusion: these "economic developers" aren't really making an impact. A useless, expensive convention for white collar administrative professionals from non-global cities reveling in their own jobs reminds that you can only drink your pee so many times before you have to go beyond what you've already got.
Act 4:  If you don't have a high school degree plus some more training…you are increasingly locked out of the middle class
Hitting up the undereducated population that has the highest unemployment rate, Planet Money visits Pathstone, a center in upstate New York that gives cred in future workplaces in a graduation-style program by way of getting students to exemplify some work ethic. It's kind of like the newest trends in Chicago housing projects toward integrated income living that aim to teach a "culture of work" to break the cycle of poverty that the individuals have been enculturated to repeat. From hygiene to computers to longterm goal thinking, it's Rich Dad, Poor Dad meets What Color Is Your Parachute in a classroom–proving that all the education you can get can be found in a book, and any job you get depends on what you've got up your sleeve and who knows it.
The focus on private citizens' personal work in getting themselves employed makes this the most refreshing act of the bunch. "The private sector creates jobs, the government just has to get out of the way," was Walker's general thesis. And since when have politicians and administrative professionals been the fountains of creativity on which our national economic security depended? Conclusion? Give the big Crayola box to the Americans and start drawing outside of the lines.