The Ira Glass Infatuation Post/ This American Life Review: This Week
Bambi's back to talk Ira Glass and This American Life! Hallelujah! Read More
By Bambi Shlomovich / May 11, 2011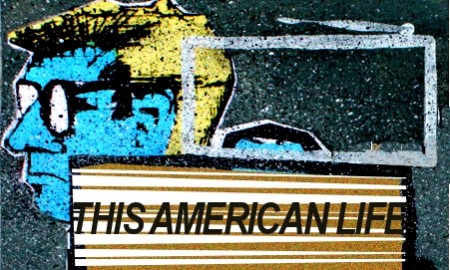 Jewcy loves trees! Please don't print!
If This American Life were a soup, this week's experimental recipe, This Week, would be a consommé, an expert reduction evaporated of impurities, left with a concentration of the show's fundamental ingredients: This (current), American (pertaining to the experience of da people), Life (fleeting, kinetic, living). While the improvised reportage sounded like TMZ looks—blogtastic shorthand and gossipy, it was also a well-rounded taste of the week's dynamic flavors, delicate and bold.
It's fair to say that Osama bin Laden was the ham while Ira and Co. threw characteristically random seasonings, yet abnormally many pinches in the mix: from road trip run-ins to Ground Zero Obamas, first-time bike rides, store closings, gays and Christians living in sin, grave-digger job security, tornado aftermath, bunk candidacies, college grad failures, and a handful more. All of which rounded out the flavor of terrorist assassination quite nicely.
Most notable was Sarah Koenig's coverage of Sunday night's partying of Millennials at a college campus post-al Qaida killing. The visceral fear from 9/11 for these young people, for whom this mysterious, immortal war was all they knew, manifested unpredictably as Bears-win-level celebration at the moment when President Obama announced, TONIGHT, I CAN REPORT TO THE AMERICAN PEOPLE AND TO THE WORLD THAT THE UNITED STATES HAS CONDUCTED AN OPERATION THAT KILLED OSAMA BIN LADEN, THE LEADER OF AL QAIDA. As Koenig discovered, this moment was a sort of period to a seemingly endless run-on of terrorist domination over our beloved world power. For just a moment, teabaggery and Trump's comb-over were eclipsed by something even more patriotic than they.
Elsewhere, in Cairo, where Osama is a far-off thought and everyone just wants to Walk Like an Egyptian, Nancy Updike sat in on the birth of a nation (more Middle-Eastern than white-supremacist). Countless meetings discussing the new direction of the infant state took place this week around the country, like the gatherings of bickering Dominican geezers in Washington Heights hollering around their dominoes. Renouncing violence, cultivating an art scene, curing a "cultural anorexia," were all dissected by the various groups now finding themselves in charge of Egypt. Even al-Gama'a al-Islamiyya, a previously violent activist group that was the first to swear off violence, spoke up with, "We fight thought with thought." A plan of attack that, in all consideration, is the true opposite of killing the killer, as we did.
After considering this taste-test of an improvisational style that kept things fresh and in the moment, I don't think I would choose this purest form of Life every week. While the quantity of stories painted a holistic picture of the week's diverse, colossal and minuscule happenings concisely, it lacked the profundity of traditional episodes. But, like Obama, the team killed it.