The Jewish Lumberjack's Guide To Hanukkah Gifts
In the spirit of the holiday, and in hopes that my various friends and family members actually read this website, I've decided to compose a handy gift guide for all the guys who look like they hang out in the forest, but probably live in Brooklyn. Read More
By Jason Diamond / December 1, 2010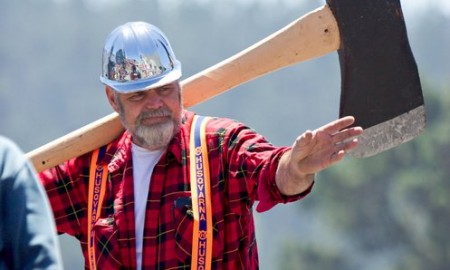 Jewcy loves trees! Please don't print!
Because I'm six-feet-tall, weigh over 200 lbs., have a beard, and wear a lot of plaid shirts, I'm automatically everyone's favorite Jewish lumberjack.  Despite my insistence that I'm hairy, big-boned and influenced mostly by the gentiles I grew up idolizing (John Hughes, I'm looking at you), someone will inevitably make a Yiddish Paul Bunyan comment.
In the spirit of the holiday, and in hopes that my various friends and family members actually read this website, I've decided to compose a handy gift guide for all the guys who look like they hang out in the forest, but probably live in Brooklyn.
While I probably wouldn't be caught dead wearing these things out of the house, I have a strange attraction to owning "weekend clothing."  This usually means an old, beat up chambray with holes in the shoulders, or an ancient Chicago Bears shirt.   And since the gentiles dominate the last few weeks of December, you may find yourself with a lot of time on your hands drinking egg nog and getting cozy.  These pants would be a subtle way to show off your Jew pride.
2.  J. Crew Rugged twill weekender bag.
Even though the actual act of buying anything from J.Crew is about as rugged as crying during a Steven Segal movie, their stuff does seem to stand up to the elements, and this bag is incredibly sweet looking for a relatively low price.
3. Hunter's plaid check shirts by L.L. Bean
Aside from about a million hours spent playing Duck Hunt, I've never hunted in my life, and unless I end up in some situation where I'm forced to kill animals to survive, I'm pretty sure I never will.
With that said, I love L.L. Bean's hunting shirts.  I especially love the plaid check ones and have purchased one in each color for my own private collection.  They are versatile, comfortable, and don't make my belly stick out too much when I tuck them in.  Anything from the L.L. Bean Signature Series is pretty much golden.
4.  Checkered scarf from Barbour.
Because if you're going to buy a scarf, do it right.  Buy a scarf made in Scotland for people who hunt.  These things will last you for years, or until you drunkenly gamble it away in a high stakes game of dreidel.
5.  Leather iPad sleeve by Lotuff & Clegg
Until you can afford to drop a few grand on their luggage, start small and get one of these beautiful handmade holders for your favorite piece of technology.
6.  Holiday shawl collar sweater by Steven Allen
I don't know why they call this a Holiday Shawl, but If I could, I'd wear this beautiful 100% wool piece of goodness all year round.  It's great for sitting around and reading books, as well as attempting to make people at the bar think you're smart.
7. Montreal Canadiens vintage pom knit hat
Even though my allegiances typically lie with Midwestern teams, I have a weak spot for the only franchise that competes with the Yankees for most illustrious team in North American sports.  And why not?  The Habs are classic, and so are these hats.
8. Pappy Van Winkle's Family Reserve
We could have chosen ten different bourbons for this list, but we picked this for two reasons:
1. The promo shot is incredibly fucking sweet.
2. The Boozy Jew walked by as we were researching, and said "oh yeah, that's a great bottle of booze."
9.  A copy of Thoreau's collected essays published by the Library of America.
Since your idea of nature might be kicking a rat off the subway platform, or drinking locally made organic cider on a stoop, you might want to bone up on some Thoreau.  Also it will give you something to talk about with that really cute English major from Columbia who is checking out your snazzy duds.
You're welcome.