The Last Of The Old Jewish Comedians: An Interview With Drew Friedman
We talk to artist Drew Friedman about his final installment of the Old Jewish Comedians series. Read More
By Jason Diamond / October 10, 2011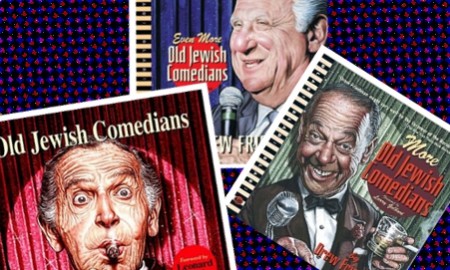 Jewcy loves trees! Please don't print!
It's the age-old question: which came first, Jews or comedy?  Is comedy just inherently Jewish, or are Jews just a really funny demographic?  Surely people laughed before Abraham told his wife that he planned to circumcise himself to make his new god happy, but maybe that was the world's first joke.  If Jews didn't invent comedy, we can at least say we've done it better than just about anybody else.
Another thing Jews have mastered is the art of old age.  Jews age like pros, and our elderly are just that much more endearing.  If you need proof, take a walk through the closest hip 'urban' area, and you'll see armies of handsome youngsters looking like your Zadie on his way to the flea market.
Jews have comedy on lockdown, and we're natural old fogies, but what happens when our comedians get old?  Past Conan or Letterman having Don Rickles on the show once every year or so, how can we pay tribute to the Jewish comedians of yesteryear?
Drew Friedman (son of author Bruce Jay Friedman, who recently released his own memoir, Lucky Bruce) has been filling that void for Jewish comedians with his Old Jewish Comedians (Fantagraphics) project since 2006.  His three books of caricatures have lionized dozens of legendary Yids who made their names on Vaudeville stages, movie screens, in Catskill comedy clubs, and nearly any other medium used to make people laugh.
In this latest, and most eclectic collection, Friedman pays homage to stars of Yiddish theatre, Jewish jazz singers, baseball players, Law & Order: Special Victims Unit stars, and Abe Vigoda.  He's used this last installment to make the point that comedians aren't always the people standing on stage tossing out one-liners; instead, he honors a handful of old Jews that could make people laugh, labels be damned.
I have this theory that there are several different schools of nerdom — from music nerds to baseball statistic nerd.  Where do you think you fall under the nerd umbrella?  More of a comedy nerd, a comic nerd, or something else?
I kinda bounce around the map.  I don't really fit into one category.  I love comedians, comic books, and old movies.  Really anything from the past.  With these Old Jewish Comedian books, they have nothing really to do with comic books, but everything I've done in my career led to these books.
How did you come up with the idea to start drawing old Jewish comedians?
The guy who edits for Fantographic asked me if I wanted to do one.  The money wasn't great, and it was something I'd have to dedicate a year to between assignments.  So he told me I could do whatever I want.  So I said, "Well, what do I like drawing the most?"  I like drawing comedians and I like drawing old Jews.   So I just put that together.
How does it work?  Do the comedians that are living ever sit for their portraits?
None of them actually sit for me.  Some of them have sent me their photographs.  I've met a lot of them over the years, and I've been in touch with a lot of them.  I've been collecting photographs of a lot of these guys for years.  I had a reference file, so I was able to expand, and do these large portraits of each particular comedian.
You said you were able to meet a few.  Do you have any good stories from meeting any of them?
Some of them really stand out.  The Friars Club in New York threw a party for the first book in the George Burns room.  Then for the second book, they threw a party in a larger room, the Milton Berle room…
It's kinda funny he gets the larger room…
Yeah, he has the largest room at the Friars Club, which should go without saying.  Now some of the comedians who were in the books, they really embrace them.  The publisher sent out copies of the book to all the comedians who were still alive.  First Freddie Roman called, he's the dean of the Friars.  He was elated to be in the book.  Then Mickey Freeman–who has since died–who was a character on the Phil Silvers Show.  Then the next call that came in was Jerry Lewis, and he left a message.
[Imitating a more serious Jerry Lewis] "Hello Drew, this is Jerry Lewis.  Please call me back."
So I'm thinking, "Oh shit," Jerry sounds pissed.  So I'm wondering what's the problem?  Maybe he's pissed that I didn't put him on the cover, or maybe he's mad I used his real name.  With all the comedians, most of them changed their name, except Carl Reiner, who is actually Carl Reiner, but for everybody else, we used their real names.  Jerry Lewis is really Jerome Levitch.  For years he was saying his real name was Joseph…kinda mundane.
So I called him back.  He picks up, I say, "Hi Jerry, I hear you got the book."
"Yes Drew, I got the book."
I asked, "What did you think of it?"
[In Nutty Professor voice] "I loved it!  Jesus Christ, it's great!"
I was quite relieved he was pleased with it.
A couple of the guys didn't want their real names exposed, including Don Rickles.  I uncovered his real name's Archibald.  He doesn't want that to be public knowledge, because he wants to be Don Rickles.  So I talked to his PR guy, and he just asked if I could leave a little correction in the future volume saying that Don Rickles says his real name is not Archibald.
I was pretty excited to see Richard Belzer in the newest book.  Did you hear back from him?
I don't think he's seen it yet, and I put his little doggie in with him.  You know he always carries that tiny dog around.  I haven't heard from him yet, but he's a younger-old comedian, he's 65 this year, which is sort of the beginning of an old Jew comedian.
People are always asking me "are you going to put Jerry Seinfeld in the next book" or if I'll do Howard Stern in one, and I say no, they aren't old enough.  And this is the last book; I'm not doing anymore.
I'm a sure guy like Howard Stern or Richard Lewis would love to be in books like these…
Yeah, I guess so, but you never know.  Some people are touchy about the old part.  When Jack Carter heard he was in one of the books, his reaction was, "Old–and Jewish?  I don't work Jewish."  He's 85.
In this most recent book you seem to go a little beyond what some people would consider a comedian with people like Mel Blanc and Fyvush Finkel.  What was the reason behind putting Bugs Bunny's voice, and an old Yiddish theater star in the third book?
I wanted to expand just beyond your traditional standup comic.  As I make clear on the back, it's just not comedians.  It's comedic actors, female comics, and a clown, Max Patkin who was the "clown prince of baseball."  It's old funny people.