The Official Drink of the 25th Anniversary of Chernobyl
Radiation-proof vodka plus the combo of amaretto and pineapple is the right shade of pinko glasses to shade your "irrational" red fear of radiation. Read More
By Bambi Shlomovich / April 27, 2011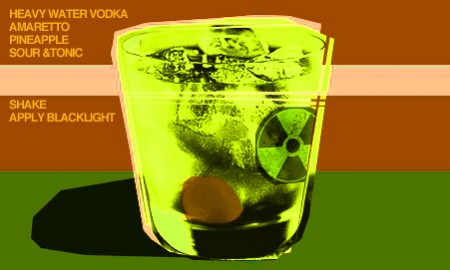 Jewcy loves trees! Please don't print!
I'm checking back in briefly from Chernobyl to present the Pineapple Chernobyl as the official drink of the 25th anniversary of The Soviet nuclear explosion that officials hid from Ukrainian and other citizens because they thought it would make them look bad, making them look even worse. This officious libation will be served at the Urban Pop Art opening at KGB Bar in NYC this Thursday.
Originally featured in a different variety in the Pleasure Principle: Freudian Sex Advice with Bambi, the Pineapple Chernobyl has more perks than just sweetening up your spunk–it's also got all the right stuff to keep you cool in the face of radiation (as elaborated upon in the Chernobyl episode of Vice's Travel Series). Consuming a couple of these should give you the right portion of vodka to do you good, , even if your government is fucking you over, brought to you by Heavy Water ULTRA-PREMIUM Vodka in nuclear-inspired form (The New York Post's #1 Vodka).  Meanwhile, the combo of amaretto and pineapple is the right shade of pinko glasses to shade your "irrational" red fear of radiation illness.
It also glows in the dark so you don't have to. See you there.