The Thomashefskys On PBS Next Season
The Thomashefskys, a classical/theatrical concert developed by San Francisco Philharmonic Music Director Michael Tilson Thomas, will receive a national primetime broadcast next season on PBS. Read More
By Adam Teeter / May 3, 2011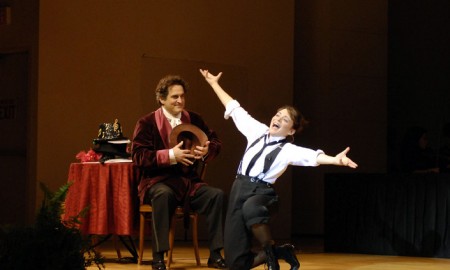 Jewcy loves trees! Please don't print!
The Thomashefskys, a classical/theatrical concert developed by San Francisco Philharmonic Music Director Michael Tilson Thomas, will receive a national primetime broadcast next season on PBS.  The show premiered at Carnegie Hall in 2005 and most recently was performed this month in New York City at the New York Philharmonic and in Miami at The New World Symphony.  The Miami performance was filmed for PBS.
The story's lead characters are Bessie and Boris Thomashefsky, grandparents of Michael Tilson Thomas. Bessie and Boris emigrated to the United States from Eastern Europe in the 1880s and, while still in their teens, began to play major roles in the development of American Yiddish theatre.
I was privileged to attend the performance in New York and was blown away by not only the historical significance Boris and Bessie had on the modern entertainment industry we have all come to know, but also how their lives intertwined with the story of Jews in America.  When Boris died in 1939, 30,000 people lined the streets of the Lower East Side for his funeral.
Unfortunately, much of our connection to the history of Yiddish theater, and the impact it had on the involvement of Jews in American entertainment industry has been lost. Fortunately, The Thomashefskys does its part to revive some of those important stories.