Tokio Hotel Causes Israeli Kids to Learn German
Ever feel like you just can't fully appreciate the Song of Songs until you can read and understand it in Hebrew? Well, according to German-translating friend of Jewcy Jewlicious, an article that ran in the Jüdische Allgemeine recently reports that … Read More
By JessM / May 16, 2008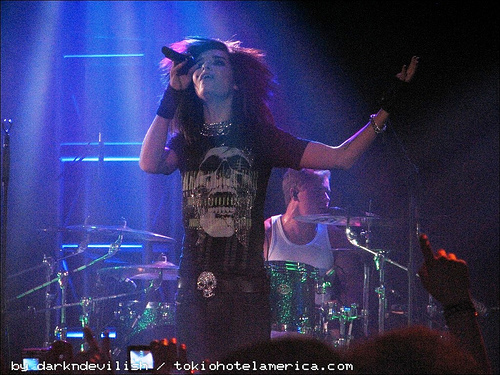 Ever feel like you just can't fully appreciate the Song of Songs until you can read and understand it in Hebrew? Well, according to German-translating friend of Jewcy Jewlicious, an article that ran in the Jüdische Allgemeine recently reports that young Israeli girls feel the same way about their new favorite band, Tokio Hotel. Apparently, the teens are OMG-ing so much over the German emo-popsters and their trademark guyliner demand for German language instruction in Israeli schools has vastly increased.
Tokio Hotel first gained mega popularity in Israel last year, spending months at the top of the Israeli music charts. After the dedicated efforts of their young, Israeli fanbase (including extensive petition campaigns to the Israeli embassy in Berlin), Tokio Hotel played its first concert at the Israel Trade Fairs and Convention Center in October of last year.
"The fact that our Israeli fans are singing our German lyrics shows how music can connect people emotionally. There are no prejudices, no boundaries or barriers," says the feathered-haired teen heartthrob lead singer Bill Kaulitz. And that's great. Except we sort of agree with Jewlicious that Israeli teens might have rather found their great passion for German language and culture in something other than the High School Musical of German emo.