The Weekly Man v. Food Review: A Jew Gets Mad Treyf in Long Island
Should Adam Richman's quest to find the greatest pig out spots in the world turn into my quest for justifying my own inability to be a good, observant Jew?  Should I really be so crushed when Adam ventures to Puerto … Read More
By Jason Diamond / July 29, 2010
Should Adam Richman's quest to find the greatest pig out spots in the world turn into my quest for justifying my own inability to be a good, observant Jew?  Should I really be so crushed when Adam ventures to Puerto Rico and wolfs down pounds of pork? 
No.  Absolutely not.  This shouldn't become some weird inner battle waged alone while I watch Adam work his heart and stomach to the point of breakdown.  This is entertainment!  This is food porn!  I should just enjoy watching the exploits of the Man Who Battles Food. I shouldn't feel an ounce of shame when Adam goes to Long Island to chow down on seven pounds of seafood.  I like seafood.  I even like following "I like seafood" with a corny joke taught to me at the age of seven: "I seafood and I eat it." So Adam goes to Long Island — not a huge deal.  He's been home to Brooklyn before.  He likes hanging out around the old stomping grounds, and who can really blame him.  He's probably got an aunt in Great Neck like just about every other Jew in the Eastern United States. But Adam doesn't go to the northern part, he goes to the southern part, because like any smart person, Adam wants to eat Italian food, and if you know Long Island, you know that part has an abundance of it.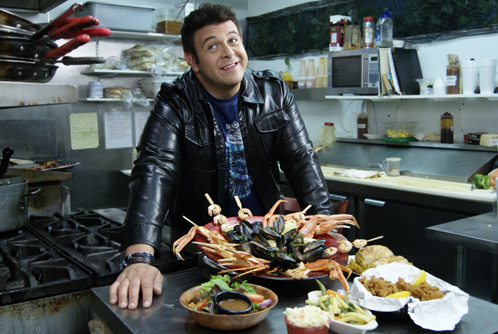 What do we get to watch him scarf down?  3 lb. rice-balls, meatballs that are as big as baby heads, and the reddest marinara sauce I have ever seen.    After that, Adam finds himself in Bellmore at the International Delight Cafe.  Adam eats The World, thirty scoops of gelato, 3 Belgian waffles, all kinds of goop, all mixed in a 2 1/2 gallon chalice that would make Lil' Jon weep with envy. Like any episode of Man v. Food, it's all foreplay until the inevitable pig out.  In this episode, Adam is given seven pounds of seafood (crabs, shrimp, muscles, flounder, etc.) to eat in an hour.  My girlfriend proclaims "goyim will eat anything!"  I get a bit sick at the idea of eating the cockroaches of the sea, and Adam makes a reference to Moby Dick ("leviathan").  But unlike Captain Ahab, Richman gets his white whale, and demolishes the meal with TWELVE MINUTES TO SPARE. Unsatisfying?  Possibly.  It was too easy!  7 lbs. of seafood has about 2 lbs. of shell–that isn't that hard. Whatever the case, Adam won, and now he is the king of Long Island.  I shed a tear when he paraphrased a Billy Joel lyric in the heart of Billy Joel country.