You Might be White Trash if… You Have Sex With a Woman Who Dresses Like a Nazi
1.  Your name is Jesse James 2.  You allegedly have sex with a woman who dresses up like a Nazi, and has "W.P." tattooed on her legs.  Tmz reports: "The woman who reportedly had an affair with Sandra Bullock's husband … Read More
By Jewcy Staff / March 19, 2010
1.  Your name is Jesse James
2.  You allegedly have sex with a woman who dresses up like a Nazi, and has "W.P." tattooed on her legs.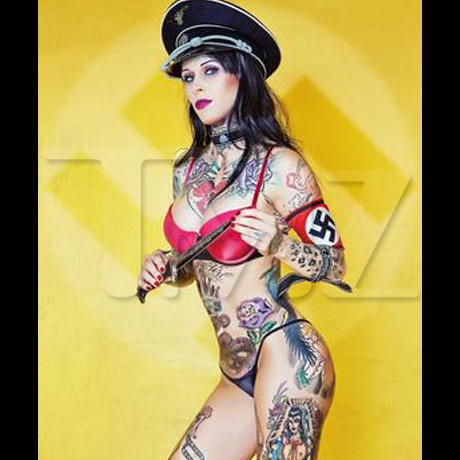 Tmz reports: "The woman who reportedly had an affair with Sandra Bullock's husband Jesse James has another bombshell to drop — a full scale Nazi photo shoot." Okay, sure.  Anybody can dress like a Nazi, doed that mean they are a Nazi?
"In child custody documents filed in January, Michelle's ex-husband says she "makes the Nazi salute," and has a swastika tattoed on her stomach (not seen in these pics). In one photo the letter "w" is on Michelle's left leg, and the letter "p" on her right. We're told Michelle tells people it stands for 'white power.'"
This makes it a little harder to argue any sort of case that you aren't white trash.