Seriously, Hug A Veteran Today
A little over a month ago, I was asked to be a pallbearer at the funeral of my girlfriend's grandfather.  I didn't know the guy she and her family referred to as "Poppy" as well as I would have liked … Read More
By Jason Diamond / November 11, 2010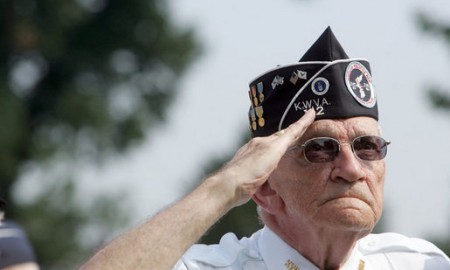 Jewcy loves trees! Please don't print!
A little over a month ago, I was asked to be a pallbearer at the funeral of my girlfriend's grandfather.  I didn't know the guy she and her family referred to as "Poppy" as well as I would have liked to, but helping lower the last earthly remains of a person into the ground is an honor that no person dare pass up.
Admittedly, I approached my duty with a tinge of apprehension, fueled by my unwavering fear of death and heavy lifting.  I'd never been a pallbearer before, and if I had my way, I'd never need to be again.  It's death, it's sad — nobody wants to die, and nobody wants anybody else to die.  But this is life, and in that casket was a dead man that was loved and respected by many, and putting him to rest was the very least I could do to honor his contribution to this world.
I've never been that much of a patriot — maybe I'm a bad person for admitting that.  I'm the son of an immigrant, and was brought up to believe that America is the greatest place on Earth, and for the most part, I've accepted that it is a far better place than most.  Do I think it has flaws?  Of course.  Our flaws are numerous and sadly, ongoing, but I don't hate this country, or speak badly of the beautiful ideals it was founded upon.  But would I take a bullet for America?  Would I willingly go to war for America?  Probably not, and to be honest, I don't know many people like me who would.  My girlfriend's grandfather was cut from a different cloth, came from a different time, and he decided that the honorable thing to do was sign up for the service, and fight for America in WWII.  The minute the hearse doors opened, I was reminded of his service by the flag draped over his coffin.
My grandfather served our country in the Navy at the same time my girlfriend's grandfather did.  He was proud of his time there, but once his job was done, he came back to America and started a family, hardly mentioning his time during the war.  I can't speak for either of these two grandfathers, but I don't think they decided to put their lives at risk as a Hemingwayesque test of manhood.  They were both Jewish kids who felt it was their duty to serve America.  They knew that "over there" was something horrible, and if not them, then who would sign the dotted line and do what was right and good?  Like thousands of other men and women who have felt that same sense of duty, they are heroes, and they should never be denied that title.  They have earned it, and I sometimes wish I was man enough to do the same.
As the rabbi talked about the life of my girlfriend's grandfather, he mentioned his dedication to his Jewish faith, his country and most of all, his family.  I spent the rest of the night thinking over that line, and how I've spent years criticizing American policy, nationalism, politicians, laws etc.  But that veteran we lowered into the ground earlier that day, he wasn't concerned with that; he was concerned with the three things the Rabbi mentioned, and I couldn't help but think that people like that aren't made everyday.