Best Latke Idea Of The Day: Pumpkin Spice
Pumpkin spice potato pancakes? Yes please. Read More
By Adam Teeter / December 2, 2010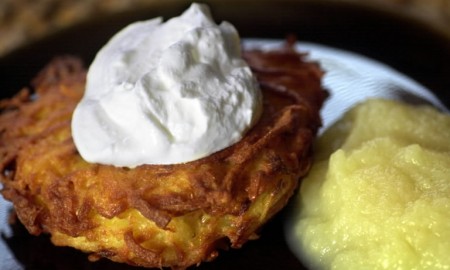 Jewcy loves trees! Please don't print!
I like pretty much anything with pumpkin (except for of course pumpkin ale), but for some strange reason though I never gave any thought to pumpkin spice latkes.
That's why today, Chef Laura Frankel, Executive Chef for Spertus Kosher Catering, is my favorite foodie of the day.  She had a brilliant idea to pumpkin spice up your favorite potato pancakes by simply adding the following to your traditional latke recipe:
3 teaspoons cinnamon
½ teaspoon nutmeg
Pinch of ground cloves
1 cup pumpkin puree
¼ additional flour to basic latke recipe.

Do you have a great latke idea?  Send it to info@jewcy.com