Pastrami: All Grown Up
A bad idea is skipping breakfast, taking the newest issue of New York Magazine with me on the train, and reading about the new variations on the pastrami sandwich. I can't say I've ever tried any of the three sandwiches … Read More
By Adam Teeter / October 19, 2010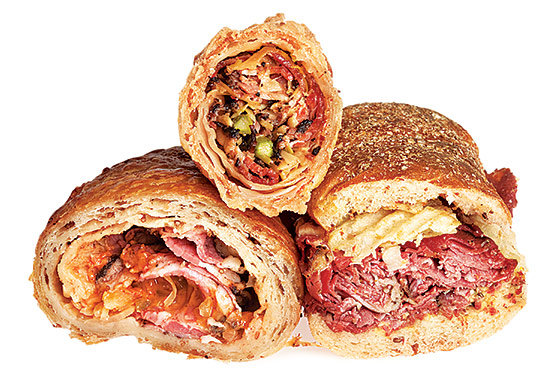 A bad idea is skipping breakfast, taking the newest issue of New York Magazine with me on the train, and reading about the new variations on the pastrami sandwich.
I can't say I've ever tried any of the three sandwiches mentioned, but I'm most curious to stop by David Chang's Momofuku Milk Bar, and indulge in the rye-and-pastrami croissant.  Chang, mostly know for his affinity towards the hog, makes as close to a no frills affair as you could imagine from lowbrow haute cuisne, using Boar's Head meat and sauerkraut.
The "smoked-meat sub" at No. 7 Sub is hardly anything to sneeze at: potato chips and smoked meat from our favorite Brooklyn Canucks, Mile End, gives us reason to make a journey.
Of course this opens up the question: Are there any places outised of New York doing new and interesting things with the classic Jewish sandwich?  This weekend we read about the guy who flew his girlfriend to Salt Lake City to nosh on a pastrami burger, but inquiring carnivorous want to know the beef.