Dutch Player Adds Another Classic Anti-Semitic Moment To Soccer History
A Dutch soccer player provided another not-so-classic moment in football antisemitism this week, after he had to publicly apologize for chanting along with fans at a bar to the tune of "We're going to hunt for Jews." Read More
By Jason Diamond / March 22, 2011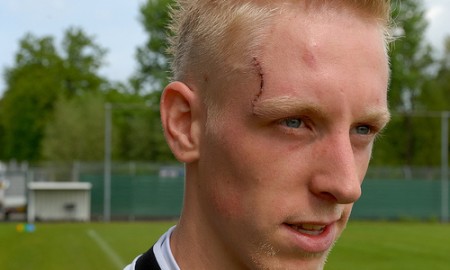 Jewcy loves trees! Please don't print!
The above picture is of a Dutch soccer player named Lex Immers.  He's inspired me to attempt a little paranoid Jewish guy math here.
A = A good portion of world's population likes soccer much more than compared to any other sport.
B = There is a decent portion of the world's population that doesn't like Jews.
C = There are a lot of idiots who like soccer, obviously that case could be made that there are idiot fans of every sport, but if you read books like Bill Buford's Among the Thugs or Elif Batuman's recent piece in The New Yorker on Turkish soccer fans, you will come to the same conclusion that I have: idiot soccer fans are the biggest idiot sport fans in the world.
D = Soccer fans like to chant.
So taking A, B, C, and D into account, the fact that there are anti-Semitic soccer chants isn't really a total shocker.  Google "Anti-Semitic soccer" and you are going to find more than a few instances involving countries from all over the world.  And if you ever find yourself wondering why Israel, a country where soccer is undeniably the most popular sport, hasn't been to the World Cup since 1970, it's probably because they aren't grouped against neighboring countries in the Asian Football Confederation. Instead they have to go against UEFA powerhouses like Spain, Germany, and Italy to get to football's biggest stage.  Hence the reason it never happens.  Some call it anti-Semitism; others say it is for the safety of the Israeli players.  Either way, it's been to the detriment of the Israeli national team.
Which brings us back to Lex Immers of the Dutch ADO Den Haag team, who recently provided another not-so-classic moment in football anti-Semitism this week, after he had to publicly apologize for chanting along with fans at a bar to the tune of "We're going to hunt for Jews."  Immers said that the chant was referring to the fans of the opposing team, Ajax, which is strongly identified with Amsterdam's Jewish community.  Immers excuse was 'When I sing 'We're going to hunt for Jews,' I mean that we want to beat Ajax. Nothing more, nothing less. The slogan 'We're going to hunt for Jews' seemed innocent."