Daily Jewce: Keret's Narrow House, Gail Simmon's Deli Order, Casino Virgins
In the news today: The Jewish Museum's upcoming retrospective, Donna Karan's new London digs, Auschwitz architect's Bauhaus background, and more Read More
By Jewcy Staff / July 19, 2012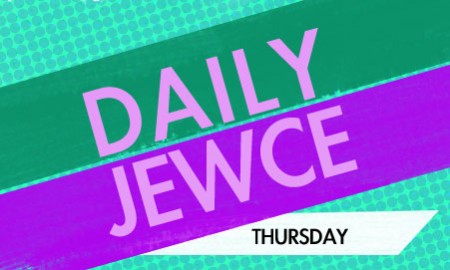 Jewcy loves trees! Please don't print!
• In Montreal, Top Chef's Gail Simmons gets smoked meat and knutzel—"Jewish beef pepperoni sticks, a Montreal specialty"—at Schwartz's deli.
• Designer Donna Karan is set to re-open her London DKNY store.
• Israeli writer Etgar Keret is about to move into the narrowest house in Warsaw.
• The Jewish Museum in New York will show the Jack Goldstein retrospective that was previously canceled at LA's Museum of Contemporary Art.
• One of the architects of Auschwitz was trained at the Bauhaus, beacon of sophistication.
• Jewcy contributor Adam Lustick is a Casino Virgin: