Daily Jewce: Mohel Tweets About Baby's Small Penis, Israeli Gas Mask Bongs for Sale, and more
In the news today: Louis C.K.'s Woody Allen-inspired trailer for 'Louie,' David Rakoff's eating patterns, Nicky Hilton dating a Rothschild, and more Read More
By Jewcy Staff / April 23, 2012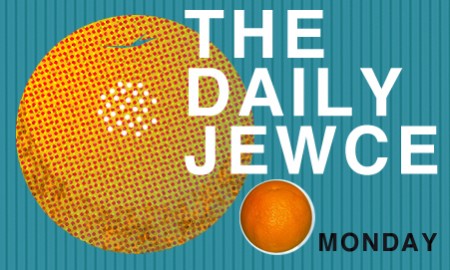 Jewcy loves trees! Please don't print!
• Trend alert: we'll take Israeli gas mask bongs over these $100 'Yellow Star' t-shirts from Urban Outfitters.
• Ever heard the one about the baby whose penis was so small the mohel tweeted about it? Oh wait, that really happened.
• "I'm all about seeing your bra through your clothes," says Community star (and Jewcy obsession) Alison Brie.
• Writer David Rakoff eats a lot of Israeli couscous.
• Nicky Hilton, still dating a Rothschild.
•The trailer for season three of Louis C.K.'s FX show Louie looks a lot like Woody Allen's Manhattan intro, with Rachmaninoff subbing in for Gershwin.