Kinky For Rick Perry
Kinky Friedman: Jewish guy who likes cigars and Rick Perry. Read More
By Jason Diamond / August 25, 2011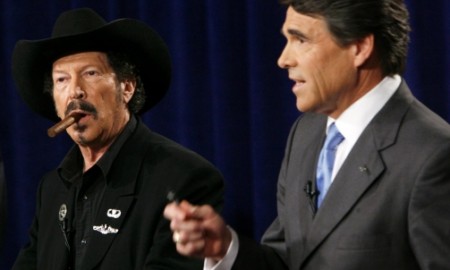 Jewcy loves trees! Please don't print!
I place Kinky Friedman in a category with about a dozen other names of quasi-celebrities that people assume I know anything about simply based on the fact that they're Jewish.  All I know about Mr. Kinky is that he's like a Jewish, cowboy hat wearing Dave Berry type of "humor writer" who likes cigars, and has ran for governor of Texas; beyond that, I'm pretty stumped.
Now, thanks to his piece over at The Daily Beast, I know that Kinky (whose real name is Richard) is a fan of Republican presidential hopeful Ricky Perry.  One of the reasons being that Perry "gets" the "visceral John Wayne kinship between Israelis and Texans."
I was pretty lost reading most of the love letter to the Texas governor, but got through it.  Now can somebody explain what exactly the Texas/Israel kinship is?  I'm neither a Texan or an Israeli, but I've spent a decent amount of time in both places, and pretty much the only thing I see the two places having in common is oppressive heat.