Last Second Christmas Gifts For Your Jewish Friends
We figured we'd help out and give the ultimate gift guide in case you find yourself asking "what should I get my Jewish friend for Christmas???" Read More
By Jewcy Staff / December 22, 2010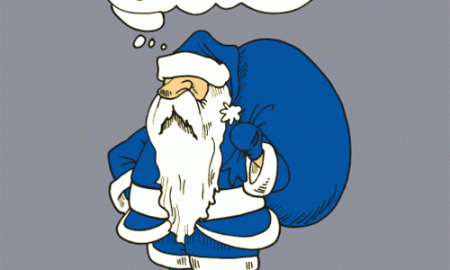 Jewcy loves trees! Please don't print!
So you goofed up and forgot that our December holiday with the presents came weeks before Christmas this year, and you didn't get you Jewish pal anything.  Or heck, maybe you know a Jew that gets to play for both teams?  We know all the eggnog and fancy lights seem really cool, and we can't totally blame anybody for wanting two rounds of presents, so we figured we'd help out and give the ultimate gift guide in case you find yourself asking "what should I get my Jewish friend for Christmas???"
For your Hasidic friend: Professor Edward J. Fuzzworthy's gentleman's beard care gloss
Moishe is a nice guy.  I mean sure, he won't shake your hand or look you in the eyes because you're a woman, but you know what, the holiday season isn't about you; it's about giving, and Moishe has quite the unkempt beard.  We're willing to bet that this all-natural, bay, rosemary, cedarwood and lime scented gloss would do the trick.
For Moishe's wife, Dvorah: Bevi Buddy Universal Cup Holder
You don't know how she does it, but somehow, Dvorah pushes two baby strollers with a pair of babies in each one.  She's a mad woman, and she always looks like she could use a refreshing beverage.
The Bevi Buddy is the perfect gift to help hydrate Hasids!
For little Jimmy's Jewish friend that he goes on play dates with: A Shalom Sesame shirt.
Even though that kid always steals your son's toys, and he celebrated his holiday a few weeks ago, you want everybody to feel included.  One of these super-soft, 100% cotton, American Apparel shirts with Cookie Monster or Elmo are perfect!
For your friend who is trying to keep kosher: Holy Cow!  Kosher beef jerkey
Eli went on Birthright, and suddenly the only place he'll go out to eat with you is the kosher place that always feels like it's on fire.  It sucks you lost your lunch buddy, but hey, at least you can ask to sample some of this stuff.
For the Jewish guy who won't shake your hand not because you're a woman, but because he's a germaphobe: Purell hand sanitizer with aloe.
And while you're at it, buy some of this for yourself.  It's amazing.
For your really charitable friend: A $50 dollar donation to The Blue Card.
Because be it Christmas, Hanukkah, Halloween or any other day of the year: no Holocaust survivor should have trouble making ends meet.
For your friend who already donated to The Blue Card: A really nice tzedakkah box.
A tzedakkah box so nice looking, a rapper would probably feature it in one of their videos.