Mark Zuckerberg Had An "Everybody Loves A Jewish Boy" Shirt, Just Like You
The 2003 profile of Facebook CEO Mark Zuckerberg was found on another website. It looks like just about every other Jewish guys profile. Read More
By Jewcy Staff / November 17, 2010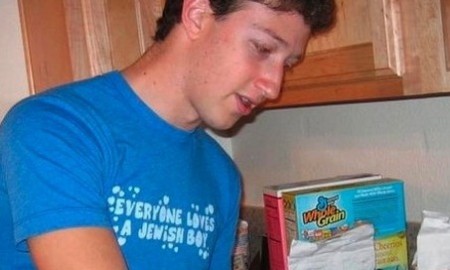 Jewcy loves trees! Please don't print!
Are you Jewish and interested in Asian girls? Well you're just a few billion dollars away from being just like Facebook CEO Mark Zuckerberg. According to Gawker, Zuckerberg's profile on the ill-fated social networking website, Friendster, has been found.
Other interesting points to know about Zuckerberg:
He does like to quote Top Gun. We wonder if he includes Val Kilmer's bite at Tom Cruise as a quote. We love that part.
In 2003 (when this profile is dated back to) he thought he wanted to meet Gwen Stefani. We are willing to bet in the seven years that passed, he's had that chance.
He had that same stupid "Everybody loves a Jewish boy" t-shirt that you and your 3 dorky cousins had in the early part of the new century.