Menorahs For Christmas, Boxing Day And Kwanzaa Available At Target
Has Target even done their research? Don't they know that any self-respecting, sale-loving Jew already knows to wait till after Christmas to buy their schlock? They're losing MILLIONS by an oversight. Read More
By Jewcy Staff / November 16, 2010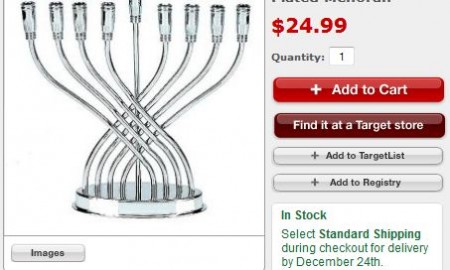 Jewcy loves trees! Please don't print!
If you're looking for a nice, cheap menorah for 2011 — or any of the non-Jewish holidays that take place about three weeks after Hannukkah–Target will get it to you by December 24th.
Seriously, has Target even done their research?  Don't they know that any self-respecting, sale-loving Jew already knows to wait till after Christmas to buy their schlock?  You guys aren't going to sell any menorahs that way.
Also, this just in: want your menorah by December 23rd for Festivus?  You're kinda out of luck…
(Thanks to Chicago Carless for the tip)