The Great Jewcy Giveaway
Has Hanukkah ever come this early before?? And why are they already setting up Christmas lights right outside our office?  We aren't sure of these questions, but we know it's a good thing Jewcy re-launched on November 1st before the … Read More
By Jewcy Staff / November 2, 2010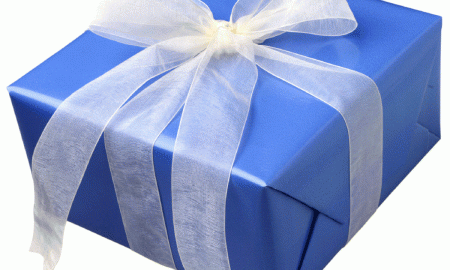 Jewcy loves trees! Please don't print!
Has Hanukkah ever come this early before?? And why are they already setting up Christmas lights right outside our office?  We aren't sure of these questions, but we know it's a good thing Jewcy re-launched on November 1st before the holidays hit, or no one would have time to participate in THE GREAT JEWCY GIVEAWAY!
In celebration of Jewcy.com's official re-launch, we're running daily giveaways all week long via our Twitter stream (@jewcymag). Giveaways will begin at 11 AM each day and continue throughout the day until we feel like enough's enough, then we'll start at 11 AM again the next day!
We're kicking it off with a literary giveaway for you Yiderati out there and some amazing gifts from our friends at Juicy Couture!
Multiple times per day throughout the week, we'll update this exact page with information on the most current giveaway. To win, follow the instructions under each post!
TODAY, November 2nd:
Our 11 AM giveaway is a copy of The Instructions, the mammoth book written by this week's guest blogger, Adam Levin.
Follow @jewcymag on Twitter and tweet this: @jewcymag Want a copy of Adam Levin's "The Instructions"? RT This by 6 PM #BrandNewJewcy http://su.pr/2LeAuh
2 PM: This giveaway is presented by Juicy Couture (link to their site), a brand that is looking as good as the redesigned Jewcy site these days: recent additions to the Juicy Couture umbrella include their new and sophisticated line, Bird by Juicy Couture, as well as the creative consultation of the mistress of all things uber feminine, designer Erin Fetherston.
Jewcy is excited to offer our Twitter followers a chance to win a $250 gift certificate from Juicy Couture!
Follow @jewcymag on Twitter and RT this:
@jewcymag Want a $250 Juicy Couture gift card? RT this by 6 PM http://su.pr/2LeAuh for a chance to win! #BrandNewJewcy
November 3rd: It's Day Two of The Great Jewcy Giveaways!
Our 11 AM giveaway today is seriously insane. On behalf of Jewcy's This American Life Roundup/ Ira Glass Infatuation Post, it is our pleasure to present a hot mess of Ira-approved This American Life shwag to two fans of the column and Ira's award-winning production.
Check out the column every week for episodic analyses with brief odes to each act's contributors. There is no shortage of raunch, insight, and unwavering hots for a man who has contributed massively to the contemporary public forum.
Take a look at these TWO big packages we get to give away thanks to Ira Glass & Chicago Public Media:
#1
Complete Season One of the This American Life television series DVD
This American Life Behind the Scenes DVD
This American Life: Stories of Hope and Fear CD
This American Life Presents Your Guide to the Meltdown
#2
This American Life Return to the Scene of the Crime DVD
Lies, Sissies and Fiascoes: The Best of This American Life CD
An Evening with Ira Glass and the New Kings of Nonfiction: Malcolm Gladwell, Chuck Klosterman, Susan Orlean CD
This American Life Tshirt
For a chance to win one of these two amazing giveaway packages (and we'll decide which winner gets which package), follow the Twitter instructions below:
RT @jewcymag: Want a swag bag from Ira Glass's This American Life? RT this by 6 PM http://su.pr/2LeAuh for a chance to win! #BrandNewJewcy
It's 2 PM, time for another Great Jewcy Giveaway!
Although jewelry designers Liana Silverstein and Donna Stein of FATE are new to Jewcy, they are no strangers to stylist and Jewcy blogger Carrie Goldberg's accessory collection. A brand new line based in both New York City and Savannah, Georgia, these passionate and impulsive designers are currently designing pieces to order and making their way into stores up and down the East Coast. As Jewish mothers and soon to be subjects of a rave review in the newly fashioned Jewcy Style Index, Liana and Donna thought they would properly introduce themselves by giving away one of their signature bracelets to a lucky Jewcy reader!
For a chance to win a set of bracelets from FATE Jewels, follow the Twitter instructions below:
RT @jewcymag: Want a piece of the FATE Jewels collection? RT this by 6 PM http://su.pr/2LeAuh for a chance to win! #BrandNewJewcy
November 3rd: It's Day Three of The Great Jewcy Giveaways!
Backstage at New York Fashion Week is hectic to say the least. But makeup artist Napoleon Perdis remained cool, calm and collected as Jewcy's own @mespetitschoux interviewed him only minutes before his work graced the runway at this past season's collections at Lincoln Center. His insistence on primer and not caking on your cosmetics are certainly things all women should abide by when dolling up, and whatever Jewcy reader wins today's giveaway "Jewced by" him should certainly be cautious to apply his tips to their makeup artistry.
Follow @jewcymag on Twitter and RT to have a selection of Napoleon's products (including nail polish and lip lacquer) land themselves in your vanity :
RT @jewcymag Want Napoleon Perdis makeup? RT this by 6 PM http://su.pr/2LeAuh for a chance to win! #BrandNewJewcy
This early afternoon giveaway is NOT OUR LAST! In fact, all of today's giveaways are brought to you by Jewcy's personal stylist and resident fashion blogger Carrie Goldberg.
Now picture this: You have an event to attend whose invitation specializes cocktail attire and you have nothing to wear. Can't you just hear your Jewish mother now? "You're going to spend all that money on a dress you're only going to wear once?!" As annoying as she may be, she may just be right, and that's where Rent the Runway comes in. With a wide selection of designer dresses, jewelry and handbags, Rent the Runway allows you to rent ensembles and avoid the frustration of looking at a dress in the back of your closet you've only worn to your cousin's wedding. Having selected my favorite Rent the Runway dresses in my weekly column a few months ago, they figured they'd help one of our readers pick their favorites – and be able to wear them as well.
Follow me on Twitter and tweet me about a fashion faux-pas that would likely make me cringe by day's end and you could win a $100 gift card to Rent the Runway! That kind of money could certainly score you a dress and accessory rental for your next family Bar Mitzvah or wedding  – minus the Jewish guilt.
Win a luxury dress rental from @renttherunway! Tweet your worst style faux-pas @mespetitschoux by 6 PM to win! #BrandNewJewcy
A film publicist by day and confectiontress by night, Freida Orange has transformed her Brooklyn home into a veritable Craque den, where she creates flavors and churns out Craque, her delicious candy with a sense of humor. Known to create custom candy for every occasion – Witchcraque for Halloween, Pumpkin Craque for Thanksgiving, Peppermint and Ginger for Christmas, Channukah Guilt and Orange for her surname, Freida didn't skip a beat when we informed her of Jewcy's exciting redesign and quickly whipped up a set of Jewcy Craque. Having been the first brand Jewcy blogger Carrie Goldberg ever mentioned in The Jewish Mother's Guide to Style, Freida knows how we do at the Jewcy HQ and worked her Yiddish magic to create Jewcy treats that look as good as our new design.
**Editor's Note: If you are one who sadly finds themselves with a nut allergy, save your enthusiasm for our other exciting giveaways. Craque products contain nuts!**
Tuesday, Nov. 9th
Perl Girl Baking was officially launched in January, and is currently run out of owner/baker Joanna Perl's NYC kitchen. "I spent my childhood eating home-baked cookies, brownies, pecan bars that my mom churned out daily," Perl explains: "She thought store-brought products were gross and didn't want us eating margarine." With an oven that holds only 36 pieces of this savory desert at a time, it's hard to believe she could stay so upbeat, but Perl is confident in her bite-sized treats: "I'll wake up at 3 AM every day to make rugalach, if that's what it takes!"
Her varieties include a more traditional cinnamon sugar and currant variety, as well as apricot, raspberry chocolate (her favorite), fig and almond, and peanut butter (!!). Her newly redesigned website, perlgirlbaking.com, claims to produce "The World's Best Rugalach (Really)." After having sampled it in our offices, well, we can't (really) disagree!
To win a free box of delicious rugalach (you may pick whatever variety you like), simply RT the following @jewcymag by 6 PM  today!
RT @jewcymag Want a box of @perlgirlbaking's World's Best Rugalach? RT
this by 6 PM http://su.pr/2LeAuh for a chance to win! #BrandNewJewcy
Giveaway #2!
Do you love Fifty First (J)Dates? OBVI, TOTES. You've read the blog – the embarrassing stories, the queries into life as a tall Jewish awkward person, and the continuous and somewhat annoying Kardashian references. Or maybe you just like to live vicariously through Meredith as she tries to run through every boy over 5'8 on the JDate site, and then some of her friends' male friends. Either way, she sort of knows her stuff when it comes to the world of online dating. Today's giveaway is a personal consultation with the FFJDewess herself – a profile rewrite or help with your online (or offline) dating profile and portfolio. Fo realz. Now, what do you have to do to win?
RT @jewcymag to win a FREE dating consultation with @50firstjdates! RT this by 6 PM http://su.pr/2LeAuh for a chance to win! #BrandNewJewcy
Winners will be selected at random by Jewcy's magical Twitter troll and contacted via Twitter. All prizes will be awarded entirely at the discretion of Jewcy, no substitutions or exchanges.