The Jew York Jets Lose Again
Another day, another hilarious television slip up. Read More
By Jewcy Staff / January 24, 2011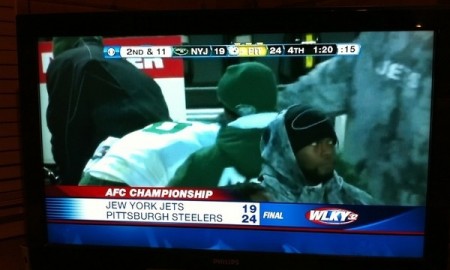 Jewcy loves trees! Please don't print!
Of course, we're totally aware that on most computers, the "J" sits right above the "N," but one has to wonder if maybe Fox News fire the person who called Elie Wiesel a "Holocaust Winner," and he just bounced back fast and got a job at CBS?
Whatever the case, we'd like to wish the Jew York Jets good luck next season.  Along with the Jew York Giants, Jew York Yankees, Jew York Mets and our favorite slow-pitch softball team, The New York Jews.
(via BuzzFeed)