Times I May Have Inadvertently Boycotted Israel
Any mention of possibly boycotting Israel is either purely coincidental, or just the case of having a big mouth. Read More
By Jason Diamond / July 19, 2011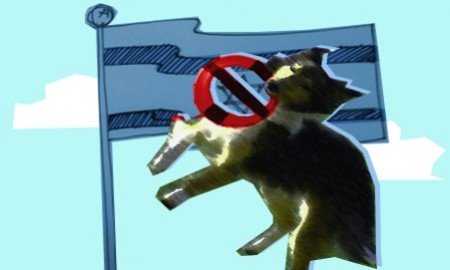 Jewcy loves trees! Please don't print!
In order to highlight the new limitations on free speech and legitimate expression in Israel by way of the new boycott law, The Forward has written an op-ed of things they can't say, but actually are saying if you read behind the crossed out words and phrases.  It's meta and very clever.
This got me thinking about all the times I've ever kind of boycotted Israeli products, and for the sake of this discussion, here is a very short list of times I may or may not have boycotted Israel and their products:
1.  1992, when I told my dad that I wanted to go to Disney World rather than go to Israel for my bar mitzvah.  My exact words were, "Israel sucks.  All we do when we go there is hang out with old people."
2.  1998, when I dated a girl who identified herself as "Jewish by blood, but pro-Palestine by heart and mind."  I was in my freshman year of college, and frankly, she was equal parts crazy and really hot.  On our second date she took me to an anti-Israel protest.  I held no signs, nor did I chant any slogans.  I finally got away by saying I really had to find a bathroom.
3.  2000, the time I found this so-called "great secret hummus" place that all my friends had been telling me about.  The guy behind the counter overcharged me, and I found a dead fly in my hummus.  When I went to complain the guy (whose name was Zev) waved me off and didn't bother to ask if he could replace my hummus.  "I hope you get deported," I yelled loudly.  "All of you Israelis are over here undocumented anyways."
4.  2005, the time I found a fingernail in my shakshuka at a now-defunct hummus joint.  I yelled that I was "boycotting the fuck out of this place."
5. 2006, I was asked by a friend if I'd go to the Israel parade with him.  I told him I hated parades. He jokingly said, "You just hate Israel." I jokingly replied, "Sure.  Whatever you want to think."  This is untrue–both of my parents have lived in Israel, and aside from the long plane ride and the heat, I really enjoy going there.