Yoav Potash's Film, 'Crime After Crime,' Wins Broadcast Journalism Award
Searing documentary about two lawyers working to free a woman imprisoned for her involvement in the murder of the man who abused her wins 2012 Hillman Award Read More
By Stephanie Butnick / May 2, 2012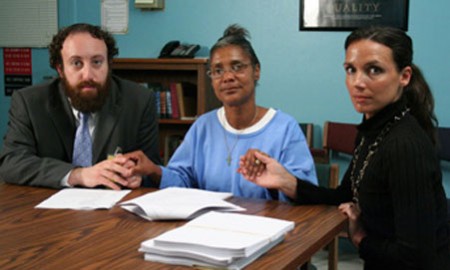 Jewcy loves trees! Please don't print!
The 2012 Hillman prizes, announced earlier this month by the Sidney Hillman Foundation, were awarded last night, and Yoav Potash's searing documentary, Crime After Crime, won for Broadcast Journalism.
Last summer I wrote about the film, which tells the harrowing story of Debbie Peagler, a California woman imprisoned for her involvement in the murder of the man who abused her, and the two land-use lawyers who spend nearly a decade working to free her. Though her crime should have carried a maximum sentence of six years in prison, she was sentenced to life in prison.
"In Judaism we have this prayer, matir asurim: To free those who are bound," one of her lawyers, an Orthodox Jew named Joshua Safran, explains in the film. "If someone is wrongfully imprisoned, we have an obligation to fight to free them, to liberate them." Peagler, a religious Christian, notes that Safran was an unlikely ally, and the bond between the two of them is one of the most captivating elements of the documentary:
As time passes and justice continues to elude the team, strong relationships develop between the rookie criminal lawyers and their unfailingly positive client. Safran, who at a young age witnessed his mother be physically abused by his stepfather, finds parallels of his own life in the suffering of Debbie and her children. Peagler's unwavering faith, witnessed in moving scenes of her leading worship services and singing with the prison choir, seems matched by Safran's religious devotion. Early in the film he is shown putting on tefillin and praying, and in a later instance learns he missed a major development in Peagler's case while observing Shabbat. At the end of the film he observes, "God works in mysterious ways." It seems as good an explanation as any.
(Pictured: Joshua Safran, Debbie Peagler, and Nadia Costa.)