Birth Writing: The New Normal
The continuing adventures of an American drinking his way through Israel on a Birthright tour. Read More
By Jay Judah / February 15, 2011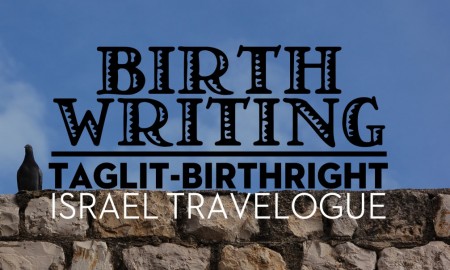 Jewcy loves trees! Please don't print!
Day 3, Night 4. Hours 72 – Three Billion.
If this was to be the new normal, someone would have told me, right? If I'd signed up to live out the rest of my days with mandatory lectures and 'programming' sandwiched between Sneaky Pete drinking, bus trips and the occasional social backflips, I think I'd have a right to know; you can't just spring this on a guy.
I mean: I hadn't even brought any shampoo, and it was starting to show.
I needed a shave. I needed a rainy three-day weekend with no further inclination towards self-harm and end-of-days party mentality. I needed a good night's sleep and maybe some soup (what the fuck WHO AM I BECOMING) and maybe even a nice long bath.
Considering of course I didn't have a bathtub, and considering I actually seemed to have a penchant towards social back flips, it seems I'd have to settle for the waking dream that this experience was. We spent the morning at a cemetery, practicing our Hebrew vowel-free pronunciation and learning tales of the foundations of Zion, of odd gardening conquests gone awry (Or, "One Man's Attempt To Cultivate Tomatoes) and who was banging who and all the beautiful nitty-gritty they keep out of textbooks. Nice to know the founding fathers could be just as scummy as the rest of us.
This is how a lot of the lectures made us feel:
Our afternoon was spent wandering the twisting cobblestone streets of Tzfat, quickly becoming one of my favorite international cities. I had the best Shwarma any man has ever had and took some amazing photographs of the sun peeking out behind crumbling buildings. I bought a paratrooper necklace that I was ALL BUT PROMISED was straight-up Air Force instead (curse you, losses in translation, you're kind of a dick) which would become an increasingly important distinction as my trip continued.
Most importantly, I found the gallery/workshop of renowned painter, photographer and ex-acid head by the name of Ya'akov Kaszmacher, whose fractal geometric religious art are like Mandlebrot shapes, imploding with Chai's and Magen Dovids, and whose store I was in over a decade ago with my family. This is a man who shook my fathers hand so many years ago as we acquired some of the art that has since hung in my family's home ever since.
I purchased a wonderfully trippy blue piece, a close cousin of the painting I've had hanging above my childhood bed since I could remember giving a shit about art; that I'd managed to track down this eloquent bearded man – to buy the art myself and bring it home with me, on my own, in this strange land, over the course of New Years and the start of my 25th year – carries some kind of blatant and wondrous symbolism that fills me with an indescribable pride.
I AM MAN! HEAR ME DECORATE MY APARTMENT!
Our latest kibbutz, in dark and windy Gonen, Israel, is equipped with a pub on-site. Two busses of Canadian Birthrighters, here already for four days, had taken it upon themselves to show us the ropes. They are strange and curious creatures, and much mirth would be had engaging in their gentle flirtations.
Through varying combinations of luck, chance and my increasingly excellent dance moves, I found myself locked in conversations all night – with friends, with strangers, with gorgeous women to whom I told glorious stories full of glittering promise. And so, in a room full of new friends, of freshly minted best friends, we danced and laughed and mixed and mingled well into the night. And when we left, arm in arm with former strangers, or slinking off into the night with new lovers, or taking moonlit strolls along the green trails of our kibbutz, the howling wind carried our laughter into the night.
I will always fondly remember that windy night in Gonen.
There's an uncanny belief among all of us even then, even on day three, that this will later have been one of the most important things any of us has ever done.
I couldn't help but agree with the entirety of my being.
Jay Judah is an aspiring producer living and working in Los Angeles. Jay twitters here, tumbls here and is a managing editor of Jewbauchery.