General Jews & Assembled Lions: What You Didn't Miss In New Orleans
Since these protesters, protest-lovers, and grouches have already filled you in on the pronouncements, arguments, and hours of service, I thought I'd try to give you a different angle in. Read More
By Aaron Bisman / November 11, 2010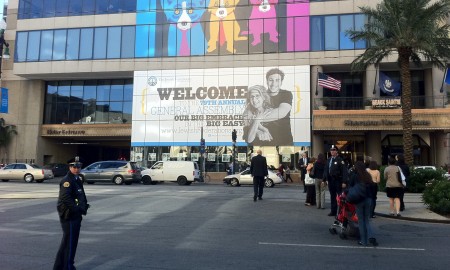 Jewcy loves trees! Please don't print!
Margarita's Gonzo account is certainly one way to see the General Assembly of the Jewish Federations of North America.  And since these protesters, protest-lovers, and grouches have already filled you in on the pronouncements, arguments, and hours of service, I thought I'd try to give you a different angle in.
There were thousands of people in attendance — a mix of donors to Jewish causes and the professionals trying to get in face time with them.  They call themselves lay leaders, development officers, generals, and lions.  They discussed the recession, Iran, the dwindling number of donors to the Federation system, and young-this and next-gen-that. In the hallways, they chatted about their grant-making, grant-taking, love of Zionism, and love of booze.  What they didn't discuss, was purpose and meaning.  Or why any of us are wrapped up in any element of Jewish life today, when we clearly could be doing easier, more lucrative, more efficient, or less frustrating things with our time.   (I took a stab at articulating my personal motivations this week.)
While not all that shocking, it is always a bit strange to me how the Jewish professional world fully divorces God, spirituality, and purpose from any and all of its proceedings.  I personally don't mind the lack of God talk; what I mind is the complete lack of conversation about why the hell any of us care enough to devote our lives to Jewish work and community.
On Sunday morning, I listened to multiple volunteer leaders under the age of 40 from around the country proudly explain that their best programming focused only on bringing Jews together with other Jews.  In their experiences, no one wanted to participate in anything that was actually Jewish or involved Jewish content.  For some reason, I couldn't get an answer when I asked: "So how is just wanting to hang with your own, to the exclusion of all others–for no unique purpose other than that you like Jews better–different from racism?"
I got plenty done down in New Orleans, and still managed to have a beignet before I left. I had moments of excitement and reinforced important relationships.  But I found myself frustrated and alienated as well, in ways that may never be overcome.  I'm not giving up on "the system;" I'm actually a big believer in it.  (Really, I even donate).  It has a place in our community – it feeds the hungry, educates our children, addresses Jewish and non-Jewish crises, and, in its shining moments, simultaneously supports initiatives (including JDub, Six Points, and Jewcy) that seek to engage with a modern Judaism for modern Jews.  But at its annual pep-rally, I still feel it looking more inward than out, more interested in celebrating its ability to gather than questioning why it gathered in the first place.
Maybe I'm just not a pep-rally kind of guy.
video via The Fundermentalist