Harry Potter Donates His Eyeglasses
In November, Liverpool was chosen to hold England's national Yom HaShoah observance, led by Chief Rabbi Sir Jonathan Sacks and the Archbishop of Canterbury Rowan Williams. So Liverpool decided upon the RESPECTacles Project, a result of a collaboration between the … Read More
By AmyGuth / January 7, 2008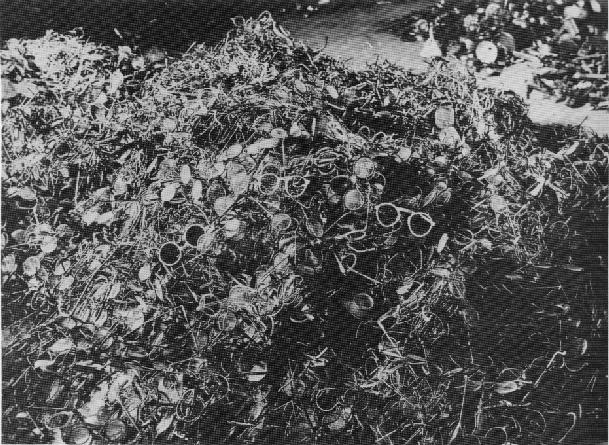 In November, Liverpool was chosen to hold England's national Yom HaShoah observance, led by Chief Rabbi Sir Jonathan Sacks and the Archbishop of Canterbury Rowan Williams. So Liverpool decided upon the RESPECTacles Project, a result of a collaboration between the Liverpool Town Hall and the Holocaust Memorial Day Trust.
The project was inspired by a photo of a pile of damaged glasses worn by Shoah victims, which will be on display from January 21st through 26th in Liverpool. According to the Liverpool city website:
The unique project wants to put across the message that all individuals, particularly our young people, can play their part in genocide prevention simply by having, showing and insisting upon RESPECT for other human beings and for their differences.
Danny Radcliffe (Harry Potter) gave a pair, along with his costar Jason Issacs, who will be taking part in the services held on Yom HaShoah at Liverpool's Philharmonic Hall on January 27th. Jerry Springer gave a pair, too, along with Yoko Ono, Stephen Fry, Paul O'Grady and Ronnie Corbett. (Elton John? I'm looking in your direction. Ahem. Glasses? Hi?)
On Liverpool City Council's website, there is still a call out for donations of glasses, sun and non. Eyewear donors are invited to label their glasses with a name in honor or memorial, as well. No specifics are given on donating by mail from stateside, but there is a bit of contact info (scroll about midway down) on their site, including a name and phone number, and I'm sure there's still time to coordinate something if you have old specs to give.  After Yom HaShoah, all glasses will be donated to Vision Aid Overseas, which aids people in obtaining much-needed prescription glasses in developing countries.