Jewish Mythbusters: Jews Don't Believe in Exorcisms
A Washington Post article about the revival of interest in exorcisms in Eastern Europe made us wonder whether Judaism has any similar traditions. The answer is surprising! In the article, one Polish Catholic reverend discussed his plans to build a … Read More
By Tamar Fox / February 12, 2008
A Washington Post article about the revival of interest in exorcisms in Eastern Europe made us wonder whether Judaism has any similar traditions. The answer is surprising!
In the article, one Polish Catholic reverend discussed his plans to build a "spiritual oasis" that will serve as Europe's only center dedicated to performing exorcisms. He's got the support of the Vatican, and last year Poland hosted the fourth International Congress of Exorcists, which attracted over 300 exorcism practitioners from around Europe.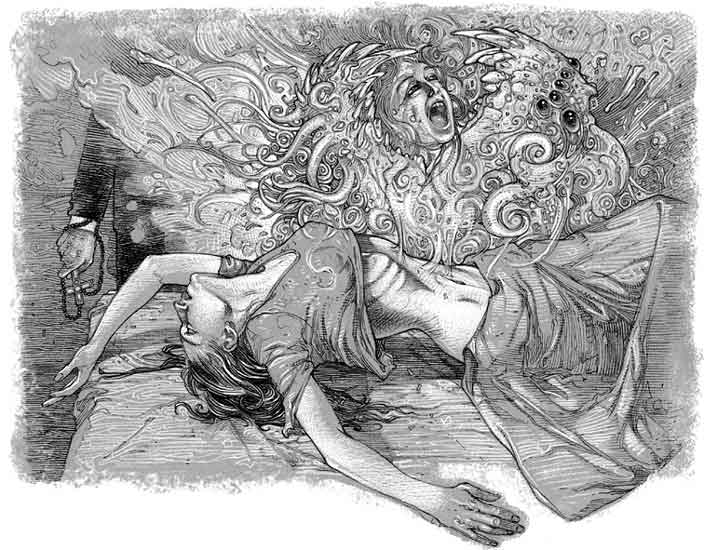 Exorcisms these days aren't like what you see in the movies, but they're not exactly pleasant, either. The WaPo article goes on to explain:
Exorcists said the people they help can be in the grip of evil to varying degrees. Only a small fraction, they said, are completely possessed by demons — which can cause them to display inhuman strength, speak in exotic tongues, recoil in the presence of sacred objects or overpower others with a stench. In those cases, the exorcists must confront the devil directly, using the power of the church to order it to abandon its host. More often, however, priests perform what some of them refer to as "soft exorcisms," using prayer to rid people of evil influences that control their lives.
It still sounds pretty crazy, and you may be patting yourself on the back for not being a part of such a wacky religion, but it turns out Jews have been doing our own version of exorcisms for centuries.

Apparently we're not so concerned about evil spirits. It's the souls of the dead that cause problems for us Jews. An article from ghostvillage.com explains:
A human being that is possessed by a spirit or some otherworldly creature is a phenomenon found in a myriad of cultures and religions. Jewish folklore calls the spirit that causes this rare but remarkable occurrence a "dybbuk." A dybbuk (pronounced "dih-buk") is the term for a wandering soul that attaches itself to a living person and controls that person's behavior to accomplish a task. The word "dybbuk" is the Hebrew word for "cleaving" or "clinging. Rabbi Gershon Winkler has been studying Jewish folklore, spirituality, and its shamanic roots for more than 25 years. He has written books covering the Jewish perspective on ghosts, apparitions, magic, and reincarnation, including a book titled Dybbuk. I spoke to Rabbi Winkler about dybbuk from his office at the Walking Stick Foundation in the wilderness of New Mexico. Rabbi Winkler said, "[Jews] don't believe in demonic possession. We believe that, on very rare occasions, there can be a possession of a living person by the soul of one who has left the body, but not the world, and they're seeking a body to possess to finish whatever they need to finish." Winkler explained how stories of dybbuk go back to ancient scriptures. In the Old Testament of the Bible, in the Book of Samuel (18:10), a bad spirit is briefly described as attaching itself to King Saul, the first king elected chieftain of the ancient tribes of Israel: "And it came to pass on the morrow, that the evil spirit from God came upon Saul…" Later in the Bible, in the Book of Kings, the prophet Elijah is possessed by the spirit of a dead man who is trying to get the prophet to trick the King into going to war when he wasn't supposed to. Winkler said, "You have stories like that, that just nonchalantly mention spirits of people who have left us coming down to effect some change, some phenomenon in this world."