Jews and the War
Back when the Iraq war began, I caught a lot of shit for being a poet against the war. Which shocked me at the time.  But other Jews seemed to feel that although my anti-war position was philosophically understandable, my … Read More
By Laurel Snyder / April 18, 2007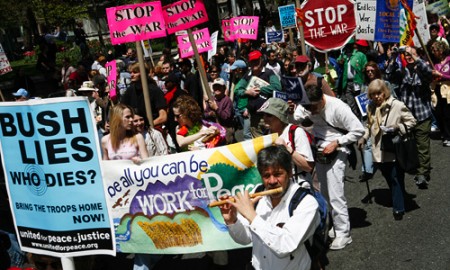 Jewcy loves trees! Please don't print!
Back when the Iraq war began, I caught a lot of shit for being a poet against the war. Which shocked me at the time.  But other Jews seemed to feel that although my anti-war position was philosophically understandable, my willingness to go on the record as a member of such an organization was NOT!
I was told (by otherwise progressive intelligent people) that such groups are all (either secretly or not so secretly) anti-Israel groups.  I was told that such groups were only "using" the war in Iraq as a more acceptable way of opposing Israel.  I was told that by siding with anti-American groups I was siding with anti-Israelis.  And that in adding a Jewish name to their ranks I was lending support to the efforts of  Jewish anti-Semites, letting them use me. 
Yeah, well.  That all seemed insane to me.  I figured there are always wingnuts screaming on both sides of any fight.   And you have to follow your own instincts…
Until one day I went down to a demonstration at the anti-war tent-city in downtown Iowa City, and I discovered that there were, in fact, an awful lot of Jewish anti-Israel demonstrators mixed into the population.  And that by right of being Jewish, I was assumed to be "with them".
I didn't know how to feel.  The two issues had gotten conflated and confused somehow, and though I wanted to support the war-protesters, and though I do have complicated feelings about certain Israeli policies, I did NOT want to be seen as generally anti-Israel.
Well now I don't have to be! 
Because now I can be a Jew Against the War!  I'm certainly on board with this (link via Jewschool):
Believing in the wisdom and relevance of the Jewish tradition, we, the undersigned, maintain that the invasion of Iraq was not just and that the continued occupation extends this injustice. It is now common knowledge that the "permission" to prosecute this war was gained under false pretenses by our president, and that the goals of the war were ill-considered, unrealistic, and poorly planned….

…We the undersigned implore our elected officials to act according to the will of the people of this great country and end this war! We ask that Congress set hard and fast limits on the ability of the President to expand this war or to extend it further in a military action against Iran.
This is important to me, the existence of a sane Jewish anti-war response.  Really important.   I only wish that in 2003, there had been a more mainstream segment of the Jewish community looking critically at the war. Or that I had known about it.