Love the Stranger: Germany Supports Chinese Oppression of Tibet
Dashing hopes that were raised by German Chancellor Angela Merkel's controversial visit with the Dalai Lama last year, Germany seems to have decided that trade relations trump human rights. Germany has now agreed "not to support or encourage any attempt … Read More
By Null / January 22, 2008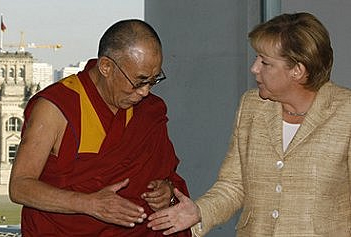 Dashing hopes that were raised by German Chancellor Angela Merkel's controversial visit with the Dalai Lama last year, Germany seems to have decided that trade relations trump human rights.
Germany has now agreed "not to support or encourage any attempt to seek Tibet's independence," despite Merkel's assurance to the Dalai Lama that she supported "his efforts to maintain the cultural identity of Tibet" and "his policy of non-violent striving toward religious and cultural autonomy." Oh, and also despite all that talk that's been going on about China's occupation and oppression of Tibet since, oh, about 1951.
This news is a bit of a letdown for those who were hopeful about Merkel's influence.
Previous: Bad News For Christians