The Anti-Christ
I consider myself pro-choice on the end of days business. You can believe the Messiah to be whomever you'd like – the Dalai Lama, David Koresh, Derek Jeter – it doesn't much matter to me. But to insist that denying Jesus Christ as Savior will result in my eternal damnation kind of gets my loincloth in a bunch. Read More
By Ilana Decker / August 24, 2011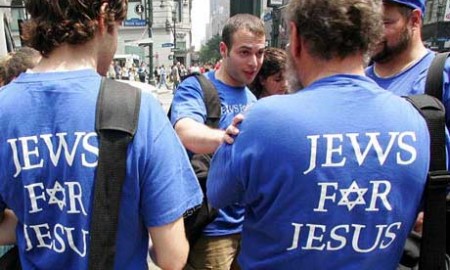 Jewcy loves trees! Please don't print!
New York Magazine's "Summer" issue in the mailbox was my first clue summer had arrived.  The blistering heat was my second.  But official confirmation came just last week, when I was swarmed by the season's peskiest pest: The Jews for Jesus.
It stands to reason that since its inception in 1974, Jews for Jesus has focused its "Summer Witnessing Campaign" on the mecca of Manhattan.  With a Jewish population hovering around a million, New York City is to Jews for Jesus what the Saturday morning cartoons demographic is to McDonald's – a huddled mass of would-be consumers jonesing for a Happy Meal.
A conversation with any of its subway disciples leaves you believing that they're just a bunch of Jews who have seen the light; though members accept Jesus Christ as the Messiah, they claim to remain Jewish.  But "Messianic Judaism" is a well-funded and extreme branch of evangelical Christianity that targets Jews for conversion.  And that whole remaining Jewish thing?  Well, as far as the movement's leaders are concerned, it's kind of like the unfinished business of a pre-surgery transsexual – a few critical steps short of the ultimate goal.
Let's face it: Jesus can be a little scary for the uninitiated.  Like many Jewish kids, my earliest exposures to the J-Man were during slumber parties at the homes of Christian friends.  Perhaps the requisite bedtime dose of Freddy Krueger set my 10-year-old nerves on edge to begin with, but an accidental midnight glimpse of Jesus' body nailed to the cross was the nail in the coffin of my sweet dreams.
And while my infinitely more mature 30-something self can totally stomach a stigmata, reports of Jesus' likeness in a Cinnabon just make me hungry.  The fact is, all religions are inherently alien to those who didn't grow up within them.  Jews for Jesus knows that if its objective is to encourage a team switch, it's well-served to turn up the Hava Negila and tone down the "in saecula saeculorum".
And so it goes: A Jews for Jesus band I stumbled upon in downtown Brooklyn left me begrudgingly whistling Shalom Aleichem for hours.  Their missionaries drop Yiddish soundbites like Jackie Mason hopped up on Manischewitz.  And recruitment videos showcase freshly saved devotees intentionally identifiable as Jewish – as if I need one more thing to feel guilty about, I now have to be admonished for rejecting Jesus by someone who looks suspiciously like my Bubbe.
I consider myself pro-choice on the end of days business.  You can believe the Messiah to be whomever you'd like – the Dalai Lama, David Koresh, Derek Jeter – it doesn't much matter to me.  But to insist that denying Jesus Christ as Savior will result in my eternal damnation kind of gets my loincloth in a bunch.
And the singling out of those stubborn Jews for our refusal to accept Jesus – where are the Hindus for Jesus, Buddhists for Jesus, Voldemort's Death Eaters for Jesus – has enabled virtually every anti-Semitic campaign in history.  Even the Vatican has long renounced the practice of proselytizing Jews, and the practice of coerced conversions in general.
The Jews for Jesus' motivation is not based in some innocent expression of love for Jesus.  Its manipulative tactics and cynical exploitation of Judaism to lure adherents put it far outside the mainstream of even the most aggressive evangelical outlets.
Then again, I could be wrong.  In which case, I better acclimate to that oppressive heat we've suffered this summer.  Fingers crossed.