The Big Jewcy: Esther K. – Jewish Engagement Superstar
Her job title is Program Coordinator, NextGen Engagement Initiative at Jewish Federation of Greater Los Angeles, but what Esther K. does goes beyond that. She's the bridge between more traditional organizations and the innovative startups that are helping redefine the Jewish world for years to come. Read More
By Jason Diamond / June 13, 2011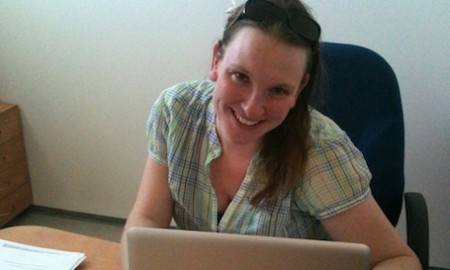 Jewcy loves trees! Please don't print!
We don't give out the prestigious "Person Who Seems to Know Every Jew in the Universe Award" very easily. Please don't pay attention to the fact that it was the first time we've actually bestowed the honor, and the person who won it didn't actually receive any prize, but Esther Kustanowitz, who is best known as Esther K., deserved it more than anybody we know.
Her job title is Program Coordinator, NextGen Engagement Initiative at Jewish Federation of Greater Los Angeles, but what Esther K. does goes beyond that.  She's the bridge between more traditional organizations and the innovative startups that are helping redefine the Jewish world for years to come.
(and on an interesting side note: she's the sister of fellow 2011 Big Jewcy member Simmy Kay.  That's the first sibling duo to make it on the Big Jewcy.)
Level with me, who's a bigger Jewish superstar: Barbra, Bette, or Esther K.?
Clearly my karaoke past precedes me. (Well, that second place win – for "It's In His Kiss (the Shoop Shoop Song)" on the upper east side in fall of 2000 WAS the stuff of legend.) But the only way I'd win that kind of a diva-off is if the competition took place on Twitter. Then I'd win, as Babs and the Divine Miss M looked at each other and shrugged, "What's Twitter? And who is @EstherK?" And then @daroff would try to get everyone's autograph (except mine) and the Jewish Week would write a story about how techno-clueless celebrities can be.
If somebody asks you what you do for a living, do you have a handy, pocket-sized answer ready?
My profession usually takes some explaining, as it tends to vary context-to-context. I do gear the response according to the audience. I sometimes like to call myself a "creative connector" or a "Jewish innovation consultant." Or I'll say, "I work at the Jewish Federation doing young adult engagement." Or perhaps "I teach Jewish organizations how to use social media effectively." But no one ever seems to understand what any of those descriptions mean, so I always have to elaborate – either by explaining what social media is, or by defining the "young" and the "engagement" part of "young adult engagement." At my core, I consider myself a writer, but then people say, "oh, novels?" and I have to say no. Or since I moved to LA, they say, "oh, screenplays?" and I have to say no. Either one of those "no's" requires me to start explaining blogs and the transitional moment in which Jewish journalism finds itself, so asking me what I do really never yields a succinct answer. I'm considering applying to law school, just so I can say "I'm a lawyer," and no one will ask me any follow-up questions.
When did you realize you wanted to work in the Jewish world?
Actually, I'm not sure I've come to that realization yet. But originally, when I graduated college back in 1945, I was looking at publishing, which paid $17K as a starting salary, and Jewish nonprofit paid $21K. So I'm in Jewish nonprofit for the money.
But what I have found is that, money aside (and you usually do have to put the money aside to work in the Jewish world) there is something incredibly meaningful about working in today's Jewish world, which is a lot more open, creative and inclusive than it used to be when I was in it for the money. I've had the opportunity to speak to thousands of people over the last ten years, at conferences in exotic (and non-exotic) locations, about the things I'm passionate about, and that's a gift I'm extremely grateful for. The Jewish world has its professionally challenging moments, for sure, but I try to stay centered on the huge opportunities it has given me. Also, as I found out most recently with the death of my mother in May, the community can be extremely supportive during times of grief. The outpouring of support from my international Jewish community has been a tremendous source of strength for me during one of the saddest times in my life, and I sincerely hope to celebrate joyous times with all those people in the future.
If you've got guests in LA, and they say "show me Jewish Los Angeles," where are the three places you must take them?
As a transplant from NYC, I've fallen in love with verdant outside-the-city locations like the Brandeis-Bardin Institute in Simi Valley and the Shalom Institute in Malibu, and also enjoy the view of the city on a clear day at the top of Runyon Canyon, or the randomness of the shul that seems to pop out of nowhere on the Venice boardwalk. You could also make a case for Hollywood as one of the prime examples of Jewish Los Angeles. But outside of the Hollywood machine and within the city limits, I have a couple of stops to advise on the "Jewish L.A. Tour."
1) The Federation, which turned 100 this year and to celebrate employed me as part of their outreach to 20s and 30s and just in time for their Centennial. (Thanks, Federation!) The Zimmer Children's Museum is located in the lobby of that building, and I'm looking forward to visits from my nephews and nieces so I can experience the museum with their wide-eyed enthusiasm. We'll refuel with some java across the street at Coffee Bean (a chain where all the food is kosher!) While we're in that neighborhood, we can shpatzir up Fairfax a bit and see some remnants of the Jewish shtetl that used to be centered in this area.
2) Heading back down Fairfax to Olympic, we'll stop at the West Side JCC to visit IKAR, a spiritual community where I've found conversation, humor, Jewish observance, emotional support, fun, and sometimes pretzel challah.
3) Then we'll continue down Pico and visit the strip extending from La Cienega to Beverwil – it features a host of synagogue options and kosher eateries for Ashkenazis, Sephardis, Israelis and Persians. We'd explore the intricacies of the Elat Market/Glatt Mart relationship, try to figure out what the difference is between Sephardic Chabad and Ashkenazi Chabad, and then we'd eat a Got Kosher pretzel challah (street name: crack cocaine) together on-site. (And then we'd each buy another one to take home, because you can't eat just one.) Throughout our tour, we'd look for the elusive Takosher kosher taco truck, and try to rustle up some Brisketacos. Because that's how we roll in Pico-Robertson.
What's your motto?
It's less a pithy, brief motto, and more an expansive variant of "v'ahavta lerea'cha kamocha" – love your neighbor as yourself. This means treating others the way you'd like to be treated. Think before you speak, only speak when you have something to say, and add value with everything you do – whether it's education or humor or empathy or friendship. Life is about relationships, and by investing in your relationships you strengthen yourself and others. So all of that definitely informs my work and my life, online and off, on a daily basis. But if I had to sum it all up, I guess my motto would be: "WWTFD? What Would Tina Fey Do?"