The Craigslist Mitzvah Of Thanksgiving
For the last five years my parents have been inviting strangers from Craigslist to our family Thanksgiving dinners. They think it's a mitzvah. Read More
By Royal Young / November 23, 2011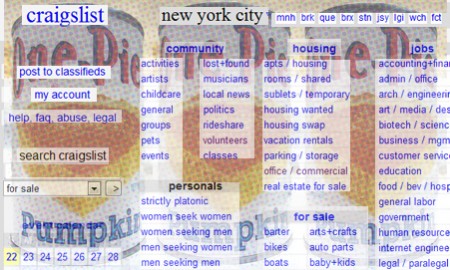 Jewcy loves trees! Please don't print!
"I don't understand why my email inbox is filling up with grainy photos of penis and vaginas," my dad mused. For the last five years my parents have been inviting strangers from Craigslist to our family Thanksgiving dinners.  Every November, they are shocked at the stream of lascivious responses they get to their ad.
"It's a mitzvah," Mom claims. As the daughter of a Rabbi, she believes that Jewish families should welcome the less needy into their home. Yet, as a 26 year-old raised on the seedy Lower East Side of the early '90s, I fear the turkey day my parents open their doors to a maniac.
So far, we've played host only to weirded-out foreign exchange students who bare bottles of wine instead of machetes.  Last year, two girls from Seoul giggled uncomfortably as my well-meaning uncle practiced his mangled Korean on them. All they knew how to say in English was "Cheers!" My artist/therapist dad loves the case studies who walk through our doors, especially feeding them his spicy stuffing. In defiance of his bland Midwest roots, he throws extra spices into everything, cooking deliciously rebellious meals.
The tradition began when my neuropsychologist Mom met a Nigerian prince in Soho. He helped her shlep her shopping bags and she invited him to Thanksgiving, where he bragged about his royal lineage, claiming the Mayflower pilgrims were "peasants." My parents have always been interested in the lives around them, involving themselves in community efforts to clean Roosevelt Park and offering unasked for directions to tourists. Though I love their generous curiosity, growing up it sometimes felt like they were more invested in their patients than me. I prayed for a diagnosable problem. With a bad prognosis, I imagined my parents would have to treat me with the same intensity they gave to their disturbed clients.  In a derelict downtown, we waved hi to hookers and crack heads on my way to kindergarten. Now, swingers attend our family soirees.  My younger brother has moved across the country to Los Angeles.
This year, Mom and Dad were infected with the usual excitement.  Like kids in front of twenty-five cent gumball machines, they couldn't wait to see what new Craigslist flavor they would get.  As a precaution against more private part pics, they toned down the language of their ad:
"No Place To Go for Thanksgiving? (Lower East Side)

LES family has tradition of inviting one (or possibly two folks) they don't know for Thanksgiving. Ideally, we like to include foreign students who don't have a Thanksgiving holiday in their home country.  Please reply with a brief self-description and the reason why you would like to join us. Thanks!"
Yet, a few days later when I dropped by my parent's renovated tenement apartment decorated with naïve art and antique furniture rescued from dumpsters, Dad was upset.
"What's wrong?" I asked
"Craigslist banned our ad," he informed me
"Why?"
Though in past years, their cyber announcements had sounded a bit more like a lonely couple looking to have some basting fun with sexy discrete singles, I thought the language of their most recent advert was pretty innocuous. Suddenly a tradition I had always deemed dangerous seemed pretty safe. Just a quirky neurotic Jewish custom that made the natural awkwardness between in-laws and other guests tame by comparison.
"I just don't understand. They wouldn't tell me anything except I had violated the site's terms and conditions," Dad was visibly disappointed, slowly washing spinach for a meal.  I realized nourishing people outside of their family had always been important to Mom and Dad, it made them happier and even more loving to their children.  They were natural caregivers who employed not-so-Kosher means.
"I have an idea," I told Dad.
"You do?" His brow instantly lightened.
On that fateful Thursday, our house will be filled with food. My Babbi and Zayde always bring crates of booze. Other eclectic guests include a professor at Oxford who specializes in animal behavior and pheromones, flying in from London with his photographer boyfriend, an ex-Opera singer and a Dutch windsurfer.  Since Craigslist has deemed my parent's request completely inappropriate, even borderline disturbing, if you have nowhere to go and would like to spend T-Day with crazy downtown dwellers and international eccentrics, please leave a comment at info@jewcy.com explaining why you would like to attend. I will personally cheers with the winner at our Lower East Side feast. And we won't poison the Cranberry sauce. Promise.