The Power Shuls Of New York
What are the most powerful synagogues in New York City? Read More
By Jason Diamond / October 10, 2011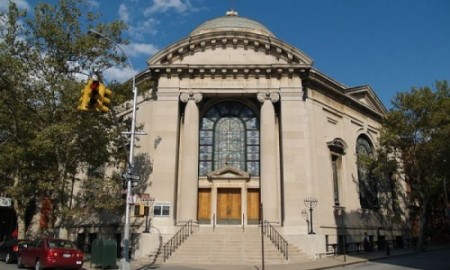 Jewcy loves trees! Please don't print!
The New York Observer likes to make lists that include lots of Jews.  There was that time they listed the "50 Media Power Bachelorettes," which probably contained two or more names you may have recognized from your Socialist summer camp.  And then there was the list of "Media Power Couples," which had plenty of pairings that would get a rabbi's thumbs up.  There is really only one New Yorkcentric list that can be more Jewy than those, and it's an actual ranking of the city's "Power Shuls," which includes "The Power Orthodox Shul (or: The Power Madoff Victims)" and "The Power Liberal Brooklyn Shul."
What about other cities?  What are the Power Shuls in places like Los Angeles, Philadelphia, Atlanta, and Boston?  Is the Chicago synagogue that Rahm Emanuel goes to the hardest to attain High Holiday tickets for?  What is the most popular shul among D.C. politicians?  And who has the best brisket for communal shabbat dinner in Houston?  We're curious.