With friends like these…
It's not news that evangelical Christians are supportive of Israel, but it's worth a conversation. A continuation from yesterday… On some level, faith is an ingredient for why we have Israel. Our faith. Why a Jewish homeland in, say, Poland, … Read More
By Laurel Snyder / November 14, 2006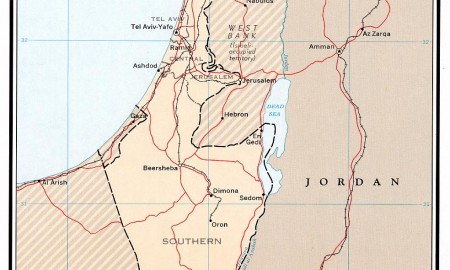 Jewcy loves trees! Please don't print!
It's not news that evangelical Christians are supportive of Israel, but it's worth a conversation. A continuation from yesterday…
On some level, faith is an ingredient for why we have Israel. Our faith. Why a Jewish homeland in, say, Poland, or the Poconos, wouldn't mean as much. Even though there's a Jewish history in each of those places.
But do we really want to be playing with evangelicals who differ from us on every political and cultural front except the issue of Israel? Racists and homophobes? (not all, of course… but many. Trust me, I live in Georgia)
I mean, they are supportive of the Zionist agenda, because in order for Jesus to come back, there have to be Jews in Israel. So that things can get even uglier there… just check out their bible:
And when ye shall see Jerusalem compassed with armies, then know that the desolation thereof is nigh. Then let them which are in Judaea flee to the mountains; and let them which are in the midst of it depart out; and let not them that are in the countries enter thereinto. For these be the days of vengeance, that all things which are written may be fulfilled. But woe unto them that are with child, and to them that give suck, in those days! for there shall be great distress in the land, and wrath upon this people. And they shall fall by the edge of the sword, and shall be led away captive into all nations: and Jerusalem shall be trodden down of the Gentiles, until the times of the Gentiles be fulfilled (Luke 21:20-24).
But then, too, once Jesus is back… I'm pretty sure all those same evangelicals will get lifted up to heaven, and we'll all go burn in hell. So the Jews in Israel will get a big Fuck You before the Rapture, and the rest of us will get a big Fuck You after the Rapture. Hellfires and all that. Our heathen souls will burn.
This site is pretty clear on the subject:
In order for most of today's Christians to escape physical death, two-thirds of the Jews in Israel must perish, soon. This is the grim prophetic trade-off that fundamentalists rarely discuss publicly, but which is the central motivation in the movement's support for Israel. It should be clear why they believe that Israel must be defended at all costs by the West. If Israel were militarily removed from history prior to the Rapture, then the strongest case for Christians' imminent escape from death would have to be abandoned. This would mean the indefinite delay of the Rapture. The fundamentalist movement thrives on the doctrine of the imminent Rapture, not the indefinitely postponed Rapture.
Now, I'm not telling you all Christians hate Jews. Far from it. I know some pretty incredible activists and theologians. But when Christians are too supportive of AIPAC? Well, it's never a good thing, not deep down.
I don't know about how we'll be judged in heaven, but on earth, we're judged by the company we keep.
For a reason.