FFJD: Alternative Date Ideas
If you want to have a fun date, maybe try laser tag? Read More
By Meredith Fineman / January 24, 2011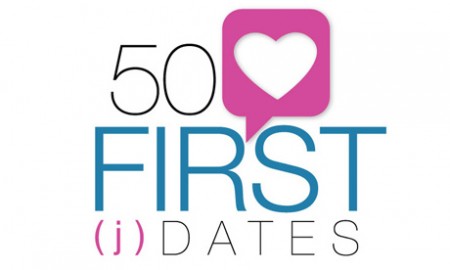 Jewcy loves trees! Please don't print!
This past weekend I went on a fantastic date that included a painting party (called Art Jamz, do it if you're in DC!) I won't get into the nitty gritty (although I was wearing a great new Yumi Kim top and also decided to paint in heels) but it was really fun and different. I realized upon walking into a room of ten women in jeans with psuedo-Enya playing (cue emphatic Chris Kattan masseuse) that this might have been an extremely large mistake, but it ended up being great.
We usually stick to the drinks or dinner paradigm so often that we end up falling asleep in our vodka-sodas. It's the same old, let's meet at X Trendy Place But Not Too Trendy or Intense Because Then One of Us Might Seem Like We're Trying Too Hard But If You Take Me To Public For a Date I Will Step on You With My Sam Edelman Shoe. You know the drill.
Since I had such a great time on Friday, I have decided to make a point of a) going on more unusual dates, but nothing with horses please, and b) sharing them with you while you're bored and trying to do anything but Gchat your ex, because you're tempted.
And we wouldn't want that, would we?
A Cooking Class.
This is a great first date because you get to eat your creation. Plus if it ends up sucking at least you learned how to make awesome croissants that you can share with your dog Linus while sitting in your Forever Lazy on a Sunday or even with another boy who will hold your attention for longer periods of time. Just be careful when wielding that spatula. Also, be cautious of food allergies. One of my best friends, who is extremely allergic to peanuts, had to go to the emergency room after kissing a boy who had ingested peanut butter a few hours before. Good story, horrible situation.
Paintball/Laser Tag
So like, I know this sounds straight up 16-year-old-boy but like, what if you could be in that Julia Stiles/Heath Ledger rebellious but adorable paintball fightand then go to the prom together but then not have the part where you realize he is being bribed to take you out because a friend wants to go out with Alex Mack. Be cautious of potential pain of paintballing.
Biking/Hiking/Something a Bit Aerobic
So like, I hate hiking unless it would be to celeb spot in Runyon Canyon and like walk my dog with Lauren Conrad and talk about how Ceiling Eyes just srsllyyyy needs to cut ties with Justin Bobby and wistfully look into the distance while lamenting my job at People's Revolution with a wide-angle lens. But some form of exercise could be fun. I once went biking with a boy and it was really great. Just be sure you're not wearing a dress (Robin). Ouch. Be cautious of helmet hair.
A Picnic
This isn't even that unusual, but sometimes it's just nice to be outside, especially right now when I live in my North Face This Jacket is Aimed at Repelling Men (literally and figuratively). Get outside, out of that bar with the Asian Fusion lighting and bring some sammiches and roll around in the grass. Just be sure to bring a blanket, or maybe even some lawn chairs. Can't be staining your JBrands.
_________
Email FFJD at fiftyfirstjdates@gmail.com!
Follow FFJD on Twitter and Be a Fan on Facebook.