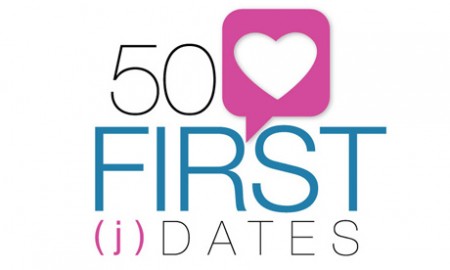 Jewcy loves trees! Please don't print!
I'm having another Carrie Bradshaw moment. I'm staring wistfully into my giant closet, trying to decide if that Dior denim bodysuit goes with my Balenciaga straightjacket. Sigh, I want so badly to say yes.
Can we talk about how in SATC Carrie made a trillion dollars from writing little columns about nothingness and was able to afford $1200 shoes? This is just not realistic. I wonder how SATC would fare with a blogger instead. DID YA HEAR THAT, MTV?
Anyway, let's get down to business. I can barely hear myself think because Aidan is whacking a hole through the wall. Weeps.
Recently, Jezebel published an article in "Social Minefield" on how to have a great first date. The site tackled all of the major stuff, (with their trademark feminist/overly critical edge), but I think there was one key element that was missing: the idea of expectations going into a first date.
We all have expectations – when it comes to someone else's personality, looks, or physical characteristics. I'm hoping you're a ten with the looks of Paul Newman and the comedic delivery of Craig Robinson. Which is a tall order, given that Paul Newman is no longer with us, but lives on in my heart, and Craig Robinson isn't my type.
If my dating saga has taught me anything, it's to have as few expectations going into a date as possible. O rly Meredith? You are a judgmental girl who writes a dating blog. Yes, I know. But listen.
I ruined many first encounters by setting the bar too high when it really shouldn't have been set at all. One of my best first dates was when I had super low expectations, and my date far exceeded them. Just try to go in with a clean slate.
Dating profiles are a two-dimensional, watered-down version of someone.  You wouldn't want that cute Columbia boy you're sitting across from to make judgments about you, either.
This is very hard to do when it comes to online dating. In a lot of cases, you've chatted with Jared for hours on end about your love of dirty Scrabble, or your pet Maltese James Earl Jones who continually chews only your most expensive sleepwear.
It's a little strange that you can immediately tell from a JDate/Match profile whether or not someone wants kids or what their past relationships have taught them about dating. These are things that come with getting to know someone, and it's important to step back and let yourself truly go from square one.
Online dating is great, because it cuts out a lot of the crap. But, sometimes it slops off some of the important, good old-fashioned ignorance about someone else.
(I decided on the Dries Van Noten assless chaps and Karl Lagerfeld for Converse slippers instead.
________
Email your FFJD story to Fiftyfirstjdates@gmail.com!
Follow FFJD on Twitter and be a fan on Facebook!