Green Apple Lube for Your Rosh Hashanah Honey
Blowin' the shofar, showin' that brisket who's boss, goin' wild on that post-sundown action? Good deeds all around. Don't be a shmuck and get caught with a burning bush mid-service. Hit it better with lubricant. While you can go traditional … Read More
By Bambi Shlomovich / September 7, 2010
Blowin' the shofar, showin' that brisket who's boss, goin' wild on that post-sundown action? Good deeds all around. Don't be a shmuck and get caught with a burning bush mid-service. Hit it better with lubricant. While you can go traditional as always, sprucing up the deal festively is like getting the good babka for the party-it just shows you care.
Sweet and happy new year, fellow atoning sinners. It's an exciting time to reflect, socialize, and most importantly, indulge. Best epitomized in juicy apples smothered in honey, this holiday is devoted to a delicious time. Eventually, we always revert to goy-holiday time Chinese restaurant rendez-vous tendencies, wondering how inscribed sage advice might translate "in bed."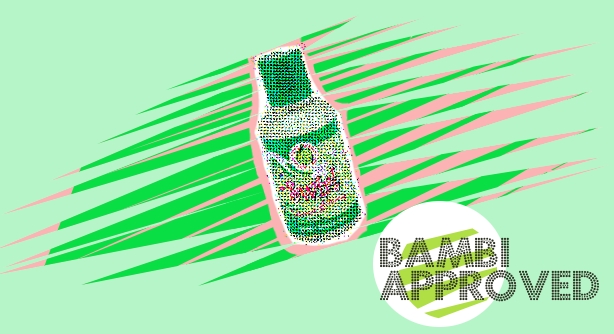 While honey itself would be an adventuresome, albeit costly option (viscosity that sticks, sucrose that belongs far from the Promised Land), better to ask the prophets, specifically those at Toys in Babeland, what the appropriate product for a smooth ho-down might be.
As usual, the gods agree with the pharaoh herself. Featured in O Magazine as a recommended staple for the bedroom, Sliquid Swirl in Green Apple will blow your mind and have you blowing his and hers. Meanwhile, it swishes well on the palate, pairing ideally with sweet remnants of New Year desserts. Nom, nom, nom on that.
It's the beautiful union of a Green Apple Jolly Rancher and a Slip 'n' Slide in your mouth, and it's even gluten free for the allergy prone. While some girls having a wild time without the help of lube might overlook this item as a superfluous addition to their repertoires, they'd be missing out on some critical sprinkles atop their cupcakes-an ingredient totally unnecessary for the integrity of the delicacy, but undoubtedly endorphine-inducing in the long run (check out the racy reviews).
Just heed the advice plastered right on the bottle: "SLIPPERY: Clean spills immediately with soap and water to prevent injury or embarrassing explanations." The last thing we need is more guilt to accompany the promiscuity of hookups, but its waterbased and latex-friendly makeup leaves little to kvetch about.
In short, glaze your Gravenstein and everything else for a well-oiled Shana Tova with a product that I sense will serve your holiday needs like a good brisket: offering a gluten-free yet satisfying option with the ideal in-season flavor for welcoming in the head of the New Year. And they even deliver.