My Big Ol' Jewish Wedding: The Hora Factor And Bigger Diamonds
She said yes, so now I get to learn how to plan a Jewish wedding. Did you know what a "yichud room" was? Read More
By Jason Diamond / April 21, 2011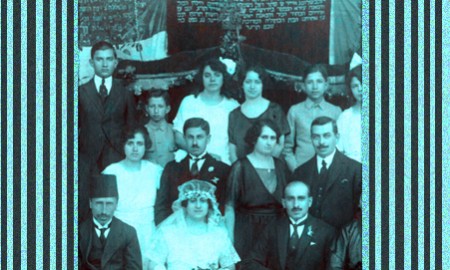 Jewcy loves trees! Please don't print!
I've finally found that nice Jewish girl that I want to marry and make nice little Jewish babies with, and last week we told the world that we plan on one day doing all this.  Without getting too sappy or sentimental, hearing her say yes was the greatest feeling in the world, and all the mazel tovs never get old.
Now the dust has settled, and we have to start planning the actual event.  If you've ever had to plan a Jewish wedding, you might know that it is a process unlike any other.  Everything you ever thought you knew about wedding planning by watching movies like Father of the Bride (a movie I love without any hint of shame) should be thrown out the window because what I've learned so far is that a Jewish wedding that tries to adhere to traditions and customs is a much different animal than you might think. Here are the three most interesting things I've learned so far.
1.  The Hora Factor.
When searching for a proper Jewish wedding venue, this is a killer.  If you plan on having two separate horas for men and women, you will probably put the kibosh on 85% of the venues you look at specifically because they won't accommodate two large circles of sweaty dancing people.
2. The Jewish Boom Boom Room

I don't remember learning about how Jewish weddings work when I was a kid, so when I kept hearing about this mysterious "yichud room," I finally had to ask, "What the heck is a yichud room?"  Of course, not wanting to seem stupid, I didn't ask a person, I asked Google.  Here is the answer.
If you're too lazy to click, a yichud room is where the bride and groom hump for the first time, while dozens of hungry people await them to finish up so they can eat their meal.  This is both the most awkward and hilarious sounding thing I can imagine.
3.  Dead Grandmothers Will Want Bigger Diamonds

I can't stress how incredibly important liking your future in-laws is.  I am lucky enough to really, really like the family that I'm becoming a part of, and I'm not just saying that because my future mother-in-law is an avid Jewcy reader (hi Harriet); I totally 100% mean that.  I like her even more because she had a dream where her late mother came to her and told her that her granddaughter needed a bigger diamond in the engagement ring.  Knowing Jewish tradition, my girlfriend's love of diamonds, and having seen Fiddler on the Roof at least twenty times, there was obviously no arguing this, and I'm happy to say that everybody is satisfied with the final result.
A few weeks later when my fiance asked her father if he had heard about his wife's dream, he replied "that's funny, because your mom's dead grandmother came to her mother in a dream and said the exact same thing."