Kate Hudson and Small Breasted Jewish Women
Why do I care about the fact that Kate Hudson may or may not have gotten breast implants?  I've been following this for two reasons: 1.  I have a secret crush on Kate Hudson.  Who doesn't? 2.  Like Hudson, I … Read More
By Emma Rothschild / April 26, 2010
Why do I care about the fact that Kate Hudson may or may not have gotten breast implants?  I've been following this for two reasons:
1.  I have a secret crush on Kate Hudson.  Who doesn't? 2.  Like Hudson, I too am a Jewish woman with small breasts. I grew up in a predominantly Jewish school, and had more than a few moments that called to mind the famous scene in Sixteen Candles where Molly Ringwald catches a glimpse of one of her buxom classmates.  When I was thirteen, I overheard my grandmother, in her broken English, telling my mother that if I "didn't develop, no man would want me", and all through high school my last name was affectionately changed from Rothschild to "Childtits." The plague of being flat-chested isn't a Jewish-only phenomenon — I'll concede this.  But growing up in a family of hearty Russian/German stock has always made me feel like an odd woman out, and in my high school years, my lack-of-bust was a huge mental roadblock that took me all fouryears to get over.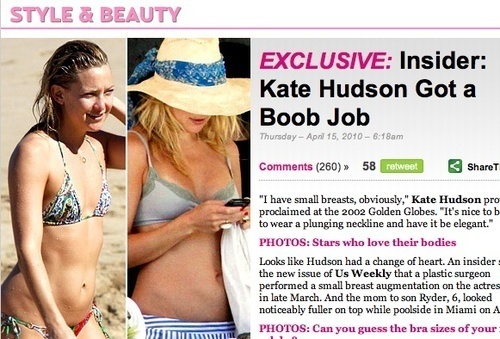 So if Goldie Hawn's daughter (that being Kate) wants to have bigger breasts, so be it!  I'm sure my growing up in South Florida is hardly any comparison to the scrutiny she must face being one of the most beautiful women in Hollywood.