New Book Helps Mothers Explain Why They're Getting Plastic Surgery
Hey parents, concerned that your kids are suffering from too much self-esteem? Does your six-year-old stand to inherit a big Ashkenazi snout, and is she distressingly cavalier about this eventuality? Luckily, a Florida plastic surgeon named Dr. Michael Salzhauer is … Read More
By Izzy Grinspan / April 16, 2008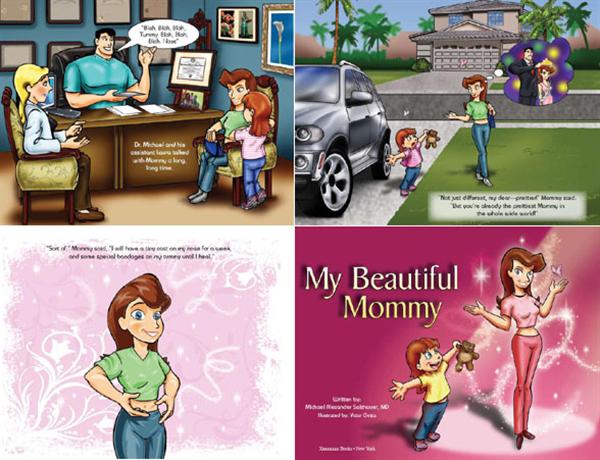 Hey parents, concerned that your kids are suffering from too much self-esteem? Does your six-year-old stand to inherit a big Ashkenazi snout, and is she distressingly cavalier about this eventuality? Luckily, a Florida plastic surgeon named Dr. Michael Salzhauer is here to help. Salzhauer's new children's book, My Beautiful Mommy, follows a mother as she explains to her little girl why she's going in for plastic surgery. "You see, as I got older, my body stretched and I couldn't fit into my clothes anymore," the mom says. Then she comes home skinnier — and with a new nose. Because the only thing kids like better than having a parent in the hospital is a half-assed explanation of what they're doing there. Newsweek, reporting on the story, gets a child psychologist named Elizabeth Berger to play the voice of reason.
Then there are the body image issues raised by cosmetic surgery—especially for daughters. Berger worries that kids will think their own body parts must need "fixing" too. The surgery on a nose, for example, may "convey to the child that the child's nose, which always seemed OK, might be perceived by Mommy or by somebody as unacceptable," she says.
Yeah, no shit. By the way, the surgeon in the book is named "Dr. Michael" and is portrayed as a teeny head on a jacked-up mega-torso. Body image issues for everybody!