The Novel Adventures of a Jew During Fleet Week
My mother recently learned how to text-message. She's addicted now, and several weeks ago, I received the following message: "JUST RAN INTO SUSIE FEINSTEIN @ SUPER-MARKET. JACOB ENGAGED TO GENTILE! OY VEY!" Mr. and Mrs. Feinstein are a couple of … Read More
By sara barron / June 10, 2008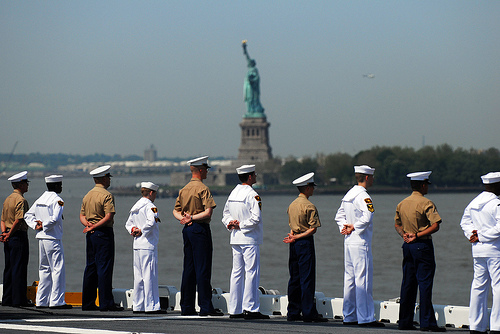 My mother recently learned how to text-message. She's addicted now, and several weeks ago, I received the following message: "JUST RAN INTO SUSIE FEINSTEIN @ SUPER-MARKET. JACOB ENGAGED TO GENTILE! OY VEY!"
Mr. and Mrs. Feinstein are a couple of conservative Jews, long-time friends of my parents, and Jacob is their oldest son. I met Jacob when I was five, so now—almost twenty-five years later—I know a lot about him: I know he's got a taste for buxom blonds with Southern accents; I know he likes a lady with a tiny gum-drop of a nose. I also know his parents would rather lose a limb than watch him date a gentile.
It's a familiar situation: Jewish parents spend a lifetime configuring Marriage To Another Jew as the end all be all accomplishment, all the while counter-productively setting the stage for their child's Shiksa-rebellion. They station us Jewish gals up on the pedestal of proper dating and, in so doing, nuzzle the rest of the female world into the seductive corner. If I had a quarter for every time I've had a Jewish boyfriend parade me around at some Briss or Bat Mitzvah and then later, behind closed doors, ask if I wouldn't mind a little Catholic school girl role-playing action, I'd have, well, a dollar. It's happened with disconcerting frequency, and I'm getting exhausted.
I want to be the manifestation of rebellion for once! But for whom is a Jew Gal a novelty? Is such a thing possible if you live in New York City?
Well, it is if it's Fleet Week. Which it was in New York, just two weeks ago.
In humiliating and unrestrained anticipation of the 'Sex and the City' movie, and in pathetic homage to the T.V. episode wherein the four characters celebrate fleet week by attending a sailors' party off Chelsea Piers, I decided to celebrate two weeks ago by trolling for sailors myself. I met one, goy-lifically named Jackson, in a West Village bar. Jackson was 6'3", from West Virginia—"they might both have 'west' in 'em," he'd drawled in reference to both the village and his native state, "but they 'sho different!"—and in an effort to keep our belabored conversation afloat—HA!—I tossed off this numb-skulled hypothetical: "Alright Jackson, so let's say this. Let's say you're on your ship and it's sinking—God forbid!—and you end up stranded on a desert island and you can only take three items with you. What would they be?"
Jackson didn't seem bothered by my insensitive mention of a sinking ship; it was the equivalent, I later decided, of someone saying to me, "Alright Sara, so let's say this: you've just been diagnosed with Melanoma. Who do you tell first: your mom or your dad?" Jackson considered my question for a moment, then answered, "Well, there're only two things I'd need, really: a twelve-pack of cold beer, and a good woman."
"Interesting," I replied. "And what constitutes 'good'?"
"Well if I had my pick," he said, "I guess I'd like a lady with tattoos."
I have no tattoos, of course: I want at least the option of a Jewish burial. (Also, tattoo parlors instill in me an unmatched sense of fear – I can't handle the idea of people strapped in chairs or the voluntary puncturing of human skin. The by-product is fine—even sexy, as Jackson suggested—but when I see the reality of where the magic happens, I get queasy.) Jackson praised tattoos and all they tend to connote, and I felt disappointed. West Virginian Sailor struck me as being one of the more exotically attractive types I'd ever get the chance to meet (Eskimos or Tibetan monks notwithstanding), and I'd banked on the feeling being mutual, but apparently not.
Or so I thought. See, I told Jackson I was sans tattoo, offered up the aforementioned reasons as to why, and he said, "Jewish, huh? That's cool. I never met no Jewish gal before." Then he inched in closer and put his hand atop my knee. I'm not sure this meant I was his forbidden fruit per se; and frankly, I didn't care to probe lest I unearth some genuine strain of anti-Semitism on behalf of his parents. Instead, I reveled in the moment, this chance to act as someone else's novelty.
An hour later, Jackson invited me back to his ship, but I declined. I mean, I'd won my Rare Bird status and shouldn't that suffice? Did I want to chase after the prize of middle-bunk sex in addition? Didn't that seem greedy? I thought it did. I felt reinvigorated, after all, and so decided: quit while you're ahead.
This way, when I get Jacob Feinstein's notice telling me to Save the Date, I'll have the strength to listen.