The Monday Mazel: A Rabbi And A Reverend Walk Into A Bar (Mitzvah)
Give it a dozen or so years, and these lovebirds will be making a yenta somewhere proud at Baby's bar/ bat mitzvah. Hopefully the reverend is invited to that joyous occasion, too. Read More
By Margarita Korol / September 19, 2011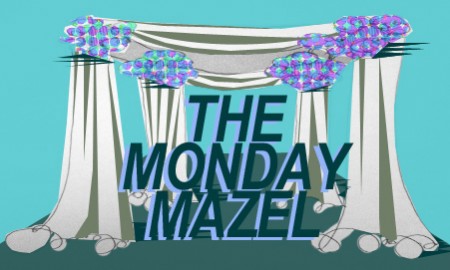 Jewcy loves trees! Please don't print!
My personal experience with the institution has lead me to regularly recall that marriage is the first step toward divorce. Divorce doesn't have an apocalyptic connotation for me; it's just another point in the road where things change, hopefully for the better. Kind of like a marriage, an event where two (or more) people combine to become much more than the sum of their individual parts. Like apples and honey. Arts and Culture. Rhea Perlman and Danny DeVito. Meeting your match and tattooing them on your life story is a sexy, proactive, and confident expression of risk taking for a colorful future that outshines probability and statistics. And, if marriage is good enough for the New York Times, it's good enough for me.
Perhaps it is when two people look outside the box to find their match that this risk-taking is most interesting. Two interfaith marriages catch the eye in this week's installment. So let us approach the hotel room that is the NYT Style's Weddings/ Celebrations with our crusty blacklight to pick up this week's very Jewcy sample of Mazels:
(Married by Rev. Dr. Donald R. Ferrell, feat. Rabbi Dennis N. Math)
Who's who: James Howe! As in author of such YA favorites as the Bunnicula series, that he wrote with his late wife Deborah, in addition to several of his more recent titles surrounding Howe's gay adolescent protagonist Joe Bunch. Working B&N's Children's department back in the day, I saw the inspiration in kids eagerly picking up his books. His characteristically Leo tendencies mesh well with the passionate work he does as author, and the affection no doubt spills over in his freshly official role as Mr. Davis' +1. Funny enough, their marriage announcement ends on the note of Howe's prior divorce: just showing that there is life after change, worthy enough of Style's attention.
Karen Tenenbaum and Michael Maxim
(Married by Rabbi Paul Swerdlow, feat. Rev. John Malone)
The bride is introduced as one who will take her husband's name, which leaves us bidding farewell to the prospect of their birthing a real live Royal Tenenbaum. No matter, there's no doubt that Maxim, OKCupid.com's head of infrastructure has his babe's algorithms all figured out in analytics, promising a bright future for the couple. Tenenbaum's service with the Bronx Defenders and Maxim's work contributing to mass harmonious digital relationships continues their families' traditions in occupational humanitarianism, boasting of a social scientist guru, a children's tutoring venture, and an international energy specialist (adding to the list of this week's cool in-laws, which also includes Jennifer Kim's new rocket scientist father-in-law).
So give it a dozen or so years, and these lovebirds will be making a yenta somewhere proud at Baby's bar/ bat mitzvah. Hopefully the reverend is invited to that joyous occasion, too.