The Monday Mazel: All The Live-Long Day
This week's Mazels celebrate the union of several very busy people who probably won't see much of each other until they retire Read More
By Margarita Korol / October 31, 2011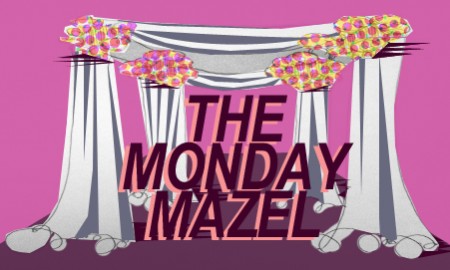 Jewcy loves trees! Please don't print!
This week's Mazels celebrate the union of several very busy people who probably won't see much of each other until they retire. Most of their Style announcements were so rushed and to the point, it seems they had to punch in before they could add anything leisurely beyond their own and their parents' professions. Daniel Layman and Eric Miller's union, boasting one retired husband, can perhaps redirect work ethic elsewhere now. Originally meeting at a party fourteen years ago, we're hoping the gentlemen didn't fall to the age-old temptation of marrying for just another extravagant party.
Meanwhile, this week's couples not yet scheduling an extended Boca retreat somehow managed to get away from the grind long enough to tie the knot. As love flutters within the hearts of a contracts specialist and a financial associate (Samantha Freeman and Oran Ebel), two litigation associates (Ann-Elizabeth Ostrager and Jon Daniels), two doctors (Carolyn Goldberg and Philip Butler), a senior account executive and a medical intern (Samantha Halpern, Michael Marsh), a media-planning supervisor and an animator (Courtney Silverman and Justin Weg), and a less busy couple in the arts (only kidding), a writer and an editor (Jennifer Miller and Jason Feifer) getting busy seems a term less befitting the comparably relaxing time at home of which we at Jewcy nonetheless wish an excess.