The Monday Mazel: Jews And Carnies
The attraction of the Jew to the performing artist is probably the most natural thing in the world. Both traditions cheering good boys and girls to cultivate individual talents to benefit the tribe, it's the talent that they're attracted to when they finally hook up Read More
By Margarita Korol / September 26, 2011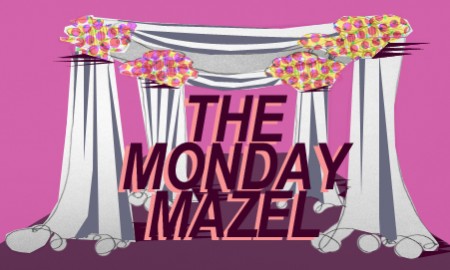 Jewcy loves trees! Please don't print!
The attraction of the Jew to the performing artist is probably the most natural thing in the world. Both traditions cheering good boys and girls to cultivate individual talents to benefit the tribe, it's the talent that they're attracted to when they finally hook up. Talents that are physical, menschy, or otherwise aesthetic. Two diasporic communities, on the fringe and yet so integrated into the fabric of the wider culture, and both have a hell of a stage presence.
This week a sword-swallower (who describes his colleagues as only numbered at around 100 in the states, one of whom was a Big Jewcy this year) woos a lovely, Barbie-pieded Jewess who produces a news show in Philly. Says Ms. Rachel Abigail Katz to the Times of David Darwin, whom she met at circus school, "He gives me confidence to do big scary things like trapeze but also in daily life." Sounds like they're taking a big bite out of the hogie of life together (just watch out for the stainless-steel toothpick).
Best photo caption: "The bridegroom carried the bride barefoot over crushed glass, a skill of his."
Full disclosure: I recently learned of my own Carnie-Jewy roots, by way of my great grandmother and grandfather who toured the Soviet bloc with Clara Young's Yiddish theater troupe (pictured below). That little tidbit explained the strange photos of a very expressive Mussolini I found in family albums. The best part: that steamy concoction of vagabond love is what saved their butts and mine in the long run as they packed up the wagon and shipped out after hearing the Germans were coming. Fleeing pregnant and to Kazakhstan, Baba Eva was the only of 6 stubborn sisters to survive.
Speaking of sideshows, the year-round F-fest known as Birthright has secured another successful Jewish coupling, this time with one of their own. Congrats to Aviva Garbowit, Director of Communication and Special Events for Birthright alumni, officially on Team Yitzi. Her beau is director of film programming at JCC NYC and film festival machine at large, and probably sees his share of staged shtetl-antics. Mr. Zablocki is also the founder of ReelAbilities: New York Disabilities Film Festival, putting differences in the spotlight with the artistic goal of creating awareness and appreciation.
This couple, like the Darwins,  exhibits the fundamental beauty of the marriage of performance art and Judaism: it is the joint dedication to art and social service that screams humanitarians, and that's good for them and the rest of us.