The Monday Mazel: Mama's Boys
Some Jews got married after they were finished fasting. Read More
By Margarita Korol / October 10, 2011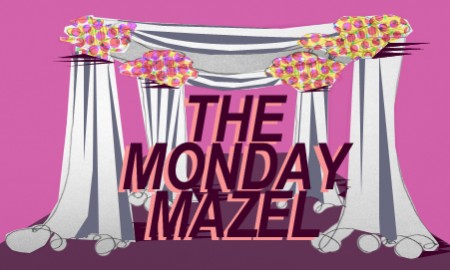 Jewcy loves trees! Please don't print!
Not everyone is fortunate enough to score Barbara Walters as a matchmaker like Paul McCartney did this weekend. Fortunately, it seemed that this week's featured Style couples were not without their own 20/20 clarity, as many heeded the foresight of the next best matchmakers to America's favorite yente, their own moms and pops.
The finest example of this are Yael Seidel and Evan Van Leer-Greenberg, who were acquaintances as children, and eventually hooked up after the insistence of mister's mother. Said he, "I've never once before listened to my parents in my life, despite the fact that I work for them." We like to believe that we are the captains of our own destiny, but in the end, as the matriarchs have been warning for ages, mama knows best.
Like the Van Leer-Greenbergs, several couples, while they might not have been introduced by their family's personal JDate representative, took after their parents in other ways. In the case of Anna Manzhukh and Alex Hughes, the bride is a computer systems analyst like her father, while Janine Abbate and Justin Silberberg both boast a mother in education, while Justin took after his father as a lawyer.
While there's nothing that rationally sets a mate above the rest for simply exhibiting similar qualities to your parents, there is the matter of familiarity. Everybody's got their share of unbelievable aberrations–it's your mother's and father's that you've learned to live with, and so are evolved enough to deal subconsciously. Of course, it's never the matchmaker that should get all, if any credit for successful unions since it's about two radical free wills taming one another. But as the saying goes, a Freudian slip is when you say one thing but mean your mother.