The Monday Mazel: The Financiers Wed
Now that we're through the high holiday, we await the landslide of Jewish weddings. Read More
By Margarita Korol / October 24, 2011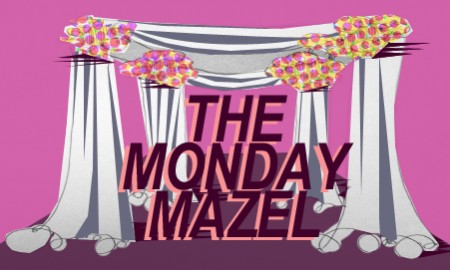 Jewcy loves trees! Please don't print!
Hilary Hartman is the worldliest of brides this week, kid of an officer at the American embassy in Rome, and taking the torch with her through Peace Corps work in Jordan and now applying her international relations degree in DC. And we're thankful that someone as international as the her is keeping it together at the Office of Terrorism and Financial Intelligence, leaving the teabags to Lipton instead of the Treasury.
Meanwhile, her groom isn't too shabby himself. Benjamin Mossberg's work at the State Department strives for sounder relations between the US and UN.  As US finances marry US security, we wish this had the same peacemaking effects on a country's wellbeing as when a European prince married an international princess.
In other news, Allison Fishman (food show host, previously on Lifetime) and Aaron Task (financial ticker webcast host) might represent the marriage of food and finance, which could go both ways. Luckily, the couple is predestined to an agreeable future: Mrs. Task's show, Cook Yourself Thin, is characterized by a sense of frugality that Mr. Task can certainly appreciate–it would be a stretch to imagine financial conservatism translating to Paula Deen-style cuisine harmoniously. Provecho, lovebirds.