Block That Obama Cliche
Here's the list of clichés to be avoided in the coming months (and, if possible, years):  Tzipi Livni is Israel's Obama: I was foolish enough to be one of many writers comparing the two. But no, Livni is not really … Read More
By Shmuel Rosner / November 13, 2008
Here's the list of clichés to be avoided in the coming months (and, if possible, years):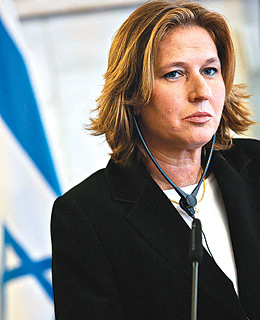 Tzipi Livni is Israel's Obama: I was foolish enough to be one of many writers comparing the two. But no, Livni is not really Obama. For starters, Obama has the charisma that Livni lacks – but there are also many other differences. As you can see here – when Livni run in the Kadima Party primaries I argued that she can be (wrongly) compared to Hillary Clinton and that Obama can be compared to her rival, Shaul Mofaz. I think it's time to quit all such comparisons.
Obama is like the first Arab Prime Minister of Israel: Give me a break. Does Obama belong to a group with which the US has an ongoing war? Does he belong to a group fighting to establish an independent state alongside the US? Does he belong to a group to which Independence Day is a day of mourning? This is not just dumb – it's a political message according to which the fate of Arab Israelis is somehow similar to the one of African-Americans. It's the kind of cute journalistic inventions with which Israel will be de-legitimized. 
Obama will help bring the peace: Maybe, maybe not. I wrote about this belief months ago: In the deceptive reality of the modern era, one can get confused – but Bush was not the president of Israel, and the same will be true of his successor. Therefore, the desire for a kind of "Obama will take care of it" is nothing more than a flight from reality, or from responsibility.
Obama is "the first Jewish president": no, he is not. He was not a Muslim masquerading as Christian, and he is not Jewish. The fact that he lived in an area in which Jews also lived does not make him Jewish. Colin Powell was growing up among Jews and even knows some Yiddish, but I don't remember him being called Jewish. True, many great people are Jewish – but it's time to recognize that not all great people are Jewish. And it's not even clear yet if Obama is great.
Obama and Bibi can't get along: I think they can. Netanyahu was ousted in the late nineties partially because he couldn't get along with Clinton, and he probably learned his lesson. Obama is smart enough to know that taking on Netanyahu will confirm to many the suspicions they had about him during the race. There's reason to assume that both will try very hard to avoid confrontation. Saying they can't make it is the wishful thinking of Netanyahu's political rivals.
Israel needs its own Obama: Israel is in need of many things. Most of all, it needs an experienced, charismatic, measured leader that can help it sail through the stormy waters of present day Middle East. It needs an Ariel Sharon, or a Yitzhak Rabin or a Yitzhak Shamir. Obama might be such great leader one day, but until this happens, it's much too soon for anyone to want someone like him.