Cook What You Crave: Colombe d'Or Crudite
Hello Jewcers.  It's Food Week in the Jewcy Book Club!  Sheila Lukins, author of Ten: All the Foods We Love, Ten Recipes for Each, is guest blogging this week about her collection of recipes for 10 all-time favorite dishes. Enjoy … Read More
By Sheila.Lukins / February 2, 2009
Hello Jewcers.  It's Food Week in the Jewcy Book Club!  Sheila Lukins, author of Ten: All the Foods We Love, Ten Recipes for Each, is guest blogging this week about her collection of recipes for 10 all-time favorite dishes. Enjoy one new recipe each day as we progress through a five-course meal. Also, participate in our weekly giveaway contest to receive a free copy of the book!
During a lively conversation with my longtime publisher and editor, the subject came around to our favorite foods. These are foods we love to eat every chance we get and dishes we hope are on the menu when we go out to dinner. That made us think, wouldn't it be wonderful to have a book that not only featured these foods, but also featured the best recipes possible. This was a challenge that I gladly accepted.
The fruit of my labor is my seventh cookbook, Ten: All the Foods We Love, Ten Recipes for Each (Workman Publishing) which is simply a repertoire of pure crave. Ten is the ten best roast chicken recipes, including Asian-Scented Orange Chicken and Pot-Roasted Chicken Santiago. The ten best mashed potatoes. The ten best leafy salads — my favorite is the Frisee and Apple Salad. The ten best pastas with a Rustic Rigatoni that, when paired with a Chianti Classico or Montepulciano, will score a 10 as a weeknight dinner. For special-occasion meals, I try to pull out all the stops with elegant dishes such as The Perfect Porterhouse with Herb Butter, Orange-Scented Rack of Lamb, Grey Sole with Gremolata Butter and Whole Beef Tenderloin with Mustard Horseradish Cream Sauce. And, I never neglect the sweet tooth offering such riches such as Brooklyn Brownies and Aunt Sabella's Chocolate Cake with Fudge Icing, a classic Marble Cake. a slew of Fruit Desserts as well as ten recipes for Ice Creams and Sorbets. I always say, "There's always room for ice cream!"
Throughout this week, I want to share a few of my favorite recipes from Ten in hopes of giving you a little inspiration for weeknight meals, appetizers for cocktail parties, stunning main courses for special-occasion dinner parties, foods that comfort you in cold weather, and delicious ideas for side dishes.
Up first is a way to start a perfect evening whether you are hosting a cocktail gathering an intimate dinner party for friends: The Colombe d'Or Crudite with a Lemon Mayonnaise.
Colombe d'Or Crudites
Serves 4
At the Colombe d'Or in St. Paul de Vence, France, they serve decorative baskets of vegetables and eggs on the table for everyone to pass around and enjoy. There's very little, if any, prep work done to the vegetables — and the eggs are even left unshelled. It's up to the diners to break off a piece of celery, pluck an artichoke leaf, select a radish, slice off a bite of cucumber, or shell a hard-cooked egg, and dip the selection in a dollop of Lemon Mayonnaise. The results are magical and might even transport you to the South of France.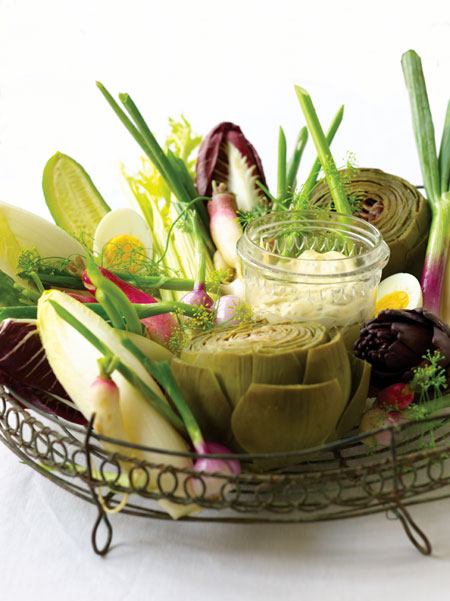 1 small inner celery rib
1 artichoke, cooked
4 to 6 scallions (white bulbs and 5 inches green)
1 small Belgian endive, trimmed, outer leaves removed
1 small fennel bulb, trimmed and halved lengthwise
½ hothouse (seedless) cucumber, halved crosswise
1 small red onion, peeled
6 to 8 radishes, preferably the long red and white variety
4 hard-cooked eggs, unpeeled
Lemon Mayonnaise (recipe follows), for serving
Arrange the vegetables and eggs decoratively in a basket. Offer a sharp knife and small plates so everyone can help themselves to a serving of the vegetables. Place the Lemon Mayonnaise in a small bowl and serve it alongside for dipping.   
Lemon Mayonnaise
1 cup prepared mayonnaise, preferably Hellmann's
1 cup sour cream
Finely grated zest of 2 lemons
2 tablespoons fresh lemon juice
Combine all of the mayonnaise ingredients in a bowl, stir well, and refrigerate, covered, until ready to serve. The mayonnaise can be made up to 1 day ahead.
Tune in tomorrow, when we move on to the soup course. 
Happy Cooking,
Sheila
Sheila Lukins, author of Ten: All the Foods We Love, Ten Recipes for Each, is guest blogging on Jewcy, and she'll be here all week. Stay tuned.
—
Want a copy of Ten: All the Foods We Love, Ten Recipes for Each?  Participate in this week's giveaway contest! Make a comment on this and other posts by Sheila. At the end of the week the authors of the top five comments will receive a FREE COPY of her book!